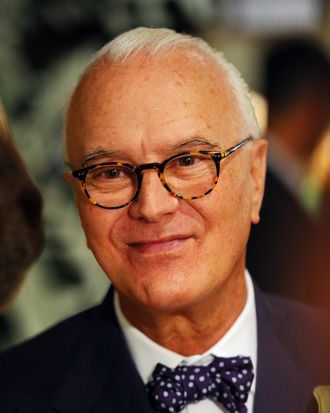 Manolo Blahnik.
Photo: Ian Gavan/2010 Getty Images
Speaking to British Vogue at a recent shoe signing in London, Manolo Blahnik reiterated his opposition to mass-market collections: "I have been approached so many times to do one, but I don't want to work for a big company where I'll have to have lots of meetings where I'm told what I can and can't do." He explained that reports of his recent collaboration with J.Crew had been inadvertently embellished — and not in the traditional, glittery Blahnik sense. "I was recently contacted by J.Crew to do something with them, so I sent them over 45 pairs of shoes, and they announced we were doing a collaboration. I had no idea about it!" (His niece, Kristina, apparently handles "that sort of thing.") 
In a separate interview with Suzy Menkes, the designer says he keeps 19,000 pairs of shoes at his home in Bath, England, which is probably why it's so easy for him to just send 45 or so pairs out whenever someone asks nicely.