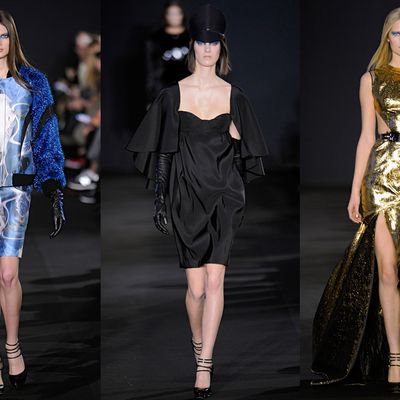 New looks from Prabal Gurung's fall 2012 collection.
Photo: Karl Prouse/Catwalking
Nicki Minaj and her tentlike hair-bow were sorely missed at Prabal Gurung this season, but Elettra Wiedemann — who sat butt-to-tutu-clad-butt with Nicki in September — did her best to fill the void with a pair of gleaming violet pants. Indeed, the front row was awash in purple, the predominant color from Prabal's spring collection: Zoe Saldana wore a purple floral-print pantsuit, and Michelle Harper fluttered about in lilac feathers.
After everyone took their seats, there followed a prolonged waiting period. Music played while audience members sat expectantly, peering towards the backstage area, but nothing happened.  Finally, to everyone's relief, a woman sauntered down the runway — except she was part of the PR team, not a model. When she saw everyone staring at her, she giggled sheepishly and exclaimed, "Yeah, I wish!" before scurrying out of the way, which made the audience laugh much harder than necessary. Bill Cunningham took advantage of the awkward moment by dashing across the catwalk to take a picture of Jenna Lyons's purple-striped pants.
The show did eventually start, of course. The first few models wore all-black outfits, predominantly in stiff materials like patent leather and neoprene with sheer paneling and cut-outs, paired with black leather gloves and giant shiny black visor hats. Just when the looks were getting a little too naughty policewoman, a group of blue garments appeared, some made of tinsel material. (Because who wouldn't want to look like a fabulous cross between Cookie Monster and a Christmas tree?) And speaking of Christmas, the latter part of the show brought lots of gold lamé dresses, gowns speckled with beads and crystals, and long sheer skirts trimmed with ostrich feathers. Also of note: Georgia O'Keefe-esque skull prints, and lots of long flared pants — a more forgiving option than Elettra's shiny purple ones, to be sure.