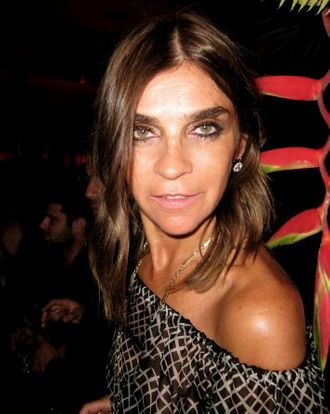 For Carine Roitfeld's forthcoming VMAN issue, the magazine enlisted Derek Blasberg to interview her about men's fashion. (You know, because we didn't get quite enough Carine from her editor's letter and the magazine's foreword.) Here are some highlights.
On men who look like sex toys:
I was looking at several men's fashion magazines and I thought so many of them were so boring. They pushed sex so much it became vulgar. The boys were naked just to be naked. For me, that is not modern …  But I do not like it when male models start to look like sex toys. For me, that's when they lose their beauty.
On Brad Pitt's hair:
The true test of a man's style is the haircut. There are some men who look good no matter how their hair is styled, whether it's trendy or not. A man can change his haircut many times, but to pull off any haircut you have to be very chic. Like Brad Pitt.
On male politicians:
When in doubt, wear a suit. Look at male politicians: You see them in a suit and they look fine. But if you see a picture of them on the weekend or on vacation, there's a good chance they look terrible and unstylish.
On Steve Jobs:
Look at someone like Steve Jobs. His look wasn't very special — black turtleneck and jeans — but he had style. He looked the same, and you knew it was him when you saw him. Plus he was a very smart person, which is also very attractive. His style was simple, not distracting, and very strong.
And rappers:
I actually love the "rappers look," with the saggy pants and oversized clothes. It's very deliberate.
You can read the full interview on VMAN.com, but even more important, when is Carine starting her own magazine again?
Related: Exclusive Preview: Carine Roitfeld Put Ten 'Real Guys' (and One Real Baby) in Her VMAN Issue