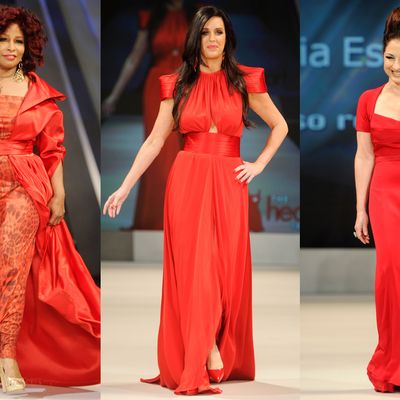 Chaka Khan, Patti Stanger, Gloria Estefan.
Photo: Frazer Harrison/Getty
The only show at Fashion Week that feels like a cruise is the Heart Truth Red Dress show. That is, unless Alexander Wang is planning something terribly ironic for his show on Saturday, like making his models walk the runway next to a full buffet. But last night at Heart Truth, which boasts celebrity models wearing red dresses to raise awareness about heart disease in women, the entertainment is campy, the people on the runway bear flesh and wrinkles, and the audience happily dresses in theme (red) and dances in their seats. No one goes to this show to see if they're the only one with the new Celine bag and if they've been dieting longer than everyone else. No, this one is fun.
The runway in Hammerstein Ballroom has a screen at the end of it, which tells us who all the celebrimodels are and who designed their red dresses. But before the show starts, we get a little animated CGI vignette of the Statue of Liberty set to a seat-shaking remix of every feel-good song any woman ever liked (Alicia Keys, Adele, Rihanna, Adele again). Once Lady Liberty's robes turns red, Fantasia-style, and the Glee-sounding song ends, the show begins!
And the committee who put this thing together deserves credit for accruing a stellar cast, that included only two reality stars! La La Anthony, who the program tells me was on Vh1's La La's Full Court Life, and Patti Stanger, who, to be fair, had a legitimate matchmaking business before she became one of Bravo's premiere attractions. (As one girl in the audience exclaimed, "Maybe Patti can find me a Valentine's date!") So there's practicality in Patti's celebrity, unlike many a Kardashian.
Patti was actually one of the best models of the night, looking stunning in a dress by Marc Bouwer. Yet she was not one of the most popular, judging by the level of applause and shrieking awarded to each celebrimodel's runway entrance. Those were Christie Brinkley, who got so excited when she came out that she tripped on her Pamella Roland chiffon, which only made everyone like her more; Giselle Bondet, the Univision host, wore Oscar de la Renta and danced her way down the runway to that LMFAO song with the best lyric ever ("I work out"); Linda Evans, who prompted one man to exclaim, "Wow, how old is she?!"; Chaka Kahn, who wore a red leopard-print number by Chris March and walked to, well, what else?; and Gloria Estefan, who made up for the height her heels couldn't give her by wearing her hair in the shape of a cone-head. An honorable mention goes to Rose McGowan, who had a slit up the front of her dress so high that when she rearranged it so as not to trip, the audience saw that even her panties were red, in keeping with the night's theme.
When it was all over, the show left you with this wonderful feeling that it was okay to go eat some calories, get drunk, and dance in an embarrassing fashion. And that's saying a lot because most fashion shows don't leave you with any feelings at all.