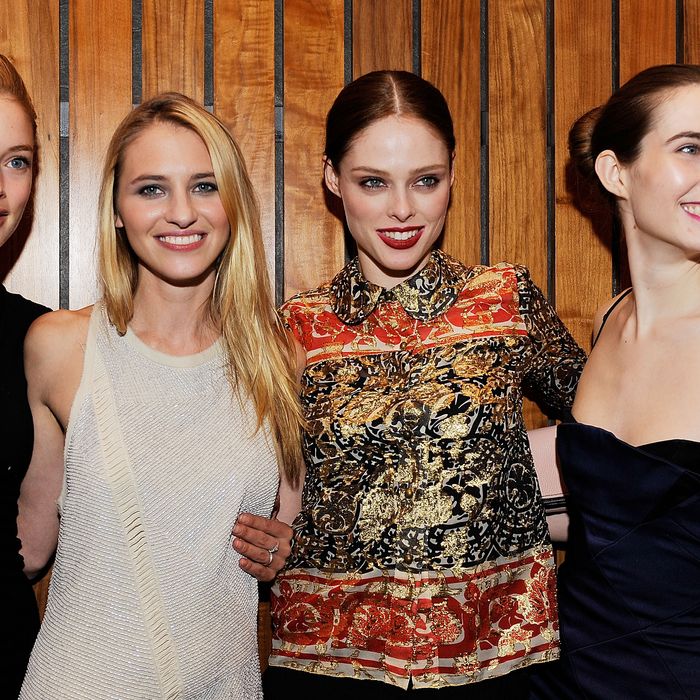 Doutzen Kroes, Sara Ziff, Coco Rocha, and Jenna Sauers.
Photo: Wendell Teodoro/Getty Images
"For far too long, modeling has been like the wild Wild West," announced Coco Rocha, who co-hosted last night's launch party at the Standard Hotel for the Model Alliance, a new workers' rights organization for fashion models. Spearheaded by model/activist/Columbia graduate Sara Ziff, the Alliance has been a work-in-progress for several years. Rocha believes it could grow to become a "capable counterpart to the CFDA," and scrolled through her phone to shout out models who had pledged their support: "Karlie Kloss, Hilary Rhoda, Behati Prinsloo, Chanel Iman … " Meanwhile, Ziff emphasized the many issues at the core of the Alliance's mission, recalling times when she'd been "put on the spot to take age-inappropriate photos" and felt that agencies had been dishonest with their bookkeeping.
Plenty of other models were there to lend support, including Doutzen Kroes, Shalom Harlow, and Crystal Renn. All three were in agreement that models are too young, underpaid, and need protection. "The issue of an underage girl working without any kind of mentoring or chaperoning is really critical, because at that age you're still learning boundaries, you're still learning how to stand in your right and say no," said Harlow. She knows from experience: "It took tremendous will for me to say, 'No, I'm not going to walk down the runway naked, even though it's my first time doing a show for you, and you're threatening to cancel me, and you're this huge designer I've seen on TV my whole life, and I'm standing up to you and I'm 16 years old.'" She characterized the power dynamic in the industry thusly: "Huge egos and a very underdeveloped ego at odds."

Meanwhile, Kroes suggested some simple improvements. "I think the Model Alliance can make a rule that every model has to have a minimum salary, you know?" she said, citing trade — when payment for walking in a fashion show is a garment from a designer's collection — as a major issue. Models who ask for payment, she said, can be swiftly replaced by a less demanding girl from the talent pool. Added Harlow, "There's a misconception about how we get paid and, yeah, sometimes there's windfall jobs, but very often we're working for free or for clothes." The UK Model's Union negotiated with the British Fashion Council to establish minimum fees for shows. Rocha echoed via e-mail, "I'd like to see standards of pay for our models in America. This is the one place where models are repeatedly asked to work for little to no money. In France we are paid, in Milan we are paid, why not here?"

Related: 134 Minutes With Sara Ziff