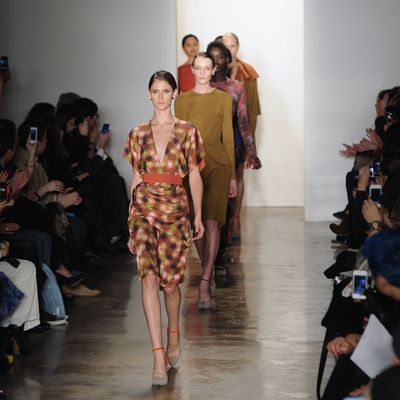 Costello Tagliapietra's fall 2012 collection.
Photo: Slaven Vlasic/2012 Getty Images
When we plopped down in our seats at Costello Tagliapietra today, we sat on something nubby. Upon further investigation, we discovered a Marriage Equality pin! A fitting touch, as designers Jeffrey Costello and Robert Tagliapietra wed this past October at City Hall after over a decade of partnership. Indeed, the whole collection was warm and fuzzy, with lots of soft, two-toned fabrics twisted into fitted, flattering dresses. The palette was warm and autumnal, with lots of rusty reds and rich browns, but it wasn't until the mustachioed designers came out at the show's conclusion that we realized the colors had been borrowed straight from their flannel shirts (although there's the distinct possibility they coordinated themselves with their collection). Front row-sitter Susan Sarandon looked similarly comfortable in a woolly sweater and floppy newsboy cap — practically like she was on her way to a middle school soccer game after an afternoon of cookie-baking. Meanwhile, Padma Lakshmi proffered her hand to photographers, which was stacked with (decidedly non-wedding) rings from her own jewelry collection.