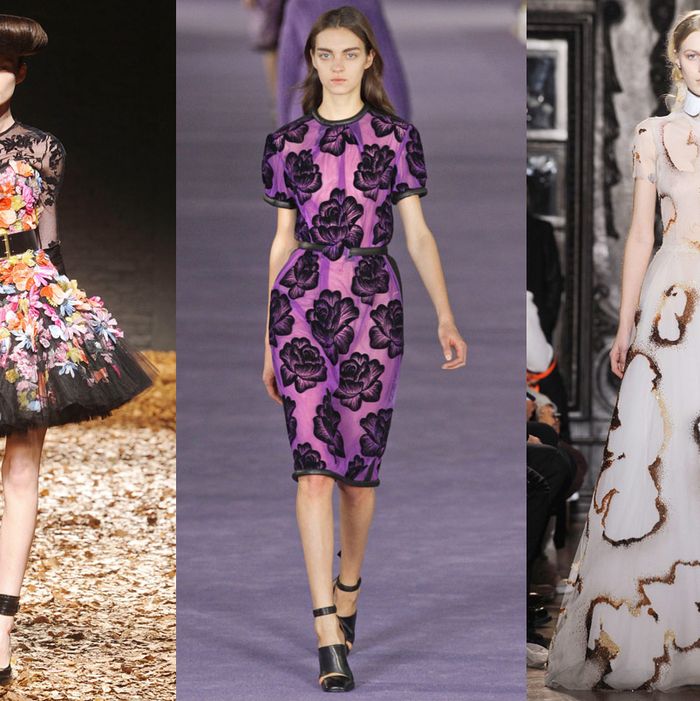 From left: McQ, Christopher Kane, Giles Deacon
THE HITS:

•  "Nothing highlighted more the new power and energy of London fashion than the launch on the runway this week of the McQ collection … an enchantment …. [Burton's] ability to distil the essence of the late designer is touching and impressive." [IHT]
•  "[I]t was beautiful — and slightly creepy…The polished, elegant clothes popped with McQueen signatures … There was a powerful military feel, too…The evening dresses were dramatic." [WWD]
•  "A sensational McQ show created a true fashion high … It was almost menacing but not quite … It's just as inspiring but somehow carries a more feminised allure." [Vogue UK]
•  "The clothes on the leafy runway were indeed beautiful; Burton shook out the key elements of the McQueen aesthetic — the romance, the dark glamour, the mind-blowing tailoring — and, rather than dumbing them down, expressed them in an accessible way." [Style.com]
•   "Burton has moved McQueen on a great deal, but this recalled the mood of McQueen's London shows 11 or 12 years ago … I interpreted the rope as a McQueen-finding-its-way-home story. His early London shows are the stuff of fashion legend, after all." [Guardian UK]
See the Full Fall 2012 McQ Collection.
•  "Christopher Kane's latest collection from London is truly worth obsessing over … he gives a three-dimensional quality to his patterns and textures … I'm crazy about an otherwise sedate purple dress with black velvet flower appliqués." [NYT/On the Runway]
•  "Christopher Kane is in a class of his own…the designer brought a discomforting sense of a dark underbelly to his apparently simple clothes … Mr. Kane was showing his range." [IHT]
•  "Christopher Kane honed his most polished aesthetic statement to date. Call it Posh Purple Power … it all felt new, and more dramatic … This, arguably, may not have been Kane's greatest collection, but it was surely his most authoritative. His time is now." [Fashion Wire Daily]
•  "The designer is known for using elements that verge on bad taste, and this season was no exception…Christopher Kane offered a dark and subversive — rather than glam — take on the materials … While some of Kane's harder-edged ideas might tread an editorial rather than commercial line, his singular vision always has an impact." [WWD]
•  "It's recognisable as Kane because it's like nothing we've seen before and yet unmistakably his; tough femininity, gloriously applied – it makes you proud to be in London." [Vogue UK]
•  "His latest was a career best … [T]he lurid, the sinister, [and] the scandalous came together in a collection that used extraordinary technique to induce visions of darkest sin. Kane reveled in it." [Style.com]
•  "Sex sells, but in fashion, so does intrigue … the overall effect was sinister, in a good way." [Fashion Week Daily]
•  "The clothes were beautiful and elegant … [T]he clothes were for the most part designed to be wearable by the grownup women who can afford his creations … this was a radical turnaround for Kane, but his is a customer with a real love of fashion." [Guardian UK]

See the Full Fall 2012 Christopher Kane Collection.

•  "There was something calm, elegant and beautiful about this collection that was less like costume than it sounds." [IHT]
•  "Giles Deacon brought new, fashionable meaning to the expression [like a house on fire]…Deacon got too carried away with burn motifs, embroidering them onto ballgowns … He cooled things down with beautiful frost motifs." [WWD]
•  "[Deacon has] also made it his business to make fairy-tale dresses that, despite having no notions of practicality or even commercial viability, feel like they give London Fashion Week a sense of worth … The workmanship was mesmerising, with the treatment so light and the construction so complex, it's hard to see this show in the same context as shows we've seen elsewhere this week." [Vogue UK]
•  "This collection yielded some truly beautiful things, romantic with macabre bite, pumped up by a couturier's eye for detail…Catastrophe was rarely so chic. And though the collection might have skewed a bit prim and proper for those who love Deacon's antic side, inside it still burned with a magical and mischievous spirit." [Style.com]
•   "[Deacon] delivered the kind of flight-of-fancy collection that presumably makes no money at all but keeps the blood pumping through the veins of London fashion … [the gowns] they seemed to follow in the great British tradition of pageantry." [Guardian]
See the Full Fall 2012 Giles Deacon Collection.
MIXED:
•  "Mr. Bailey's collection was strong, but I thought it worked best when he favored the field over the town — in other words, when he submerged the fancy effects in utility fabrics or earthy color." [NYT/On the Runway]
•  "[The collection] had nonstop focus on padded pockets…Most women do not love their hips unless they jut out, greyhound style, from a concave stomach…The best of the show was streamlined and with a fine attention to detail…But the hips had it." [IHT]
•  "The result was a lineup of glamorous hybrids in classic men's wear fabrics…Bailey worked a Thirties chrysanthemum print into shift dresses and gave his pencil skirt a spin with a fat, curving ruffle at the front." [WWD]
•  "Riffing so self-confidently on the visual DNA he himself has invented for Burberry, Bailey re-fashioned the silhouette, sensibility, and sophistication…a thoroughly assured show…no brand is more "now" in the U.K. today than Burberry." [Fashion Wire Daily]
•   "[I]t was nice to see a touch of humour and a bit of fun amid the mega bucks…It acted as the official announcement of some of London's trends…Big bags are back…Burberry's determinedly staying up front as London's big hitter." [Vogue UK]
•   "[T]he division between city and country was really somewhat artificial in a collection that wove a story out of Burberry's outerwear expertise and Bailey's ongoing fascination with casually gilded youth…perhaps the rain was just another metaphor, this time for all the money showering down on Burberry." [Style.com]
•   "Christopher Bailey's status as London's preeminent fashion rainmaker is assured, despite a hip-centric story that will appeal mostly to those who want to add curves." [Fashion Week Daily]