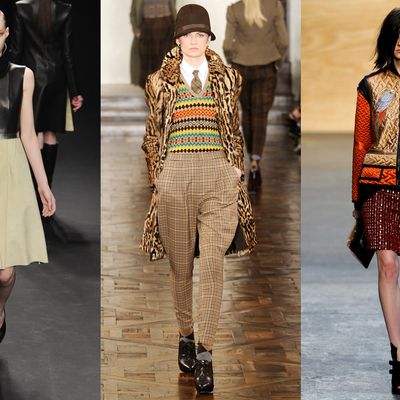 THE HITS:
• "The silhouette at Proenza Schouler was more extreme: a boxy jacket in white piqué with an asymmetrical front worn with wide-leg trousers. It was a cool look, hinting of a Japanese influence." [NYT]
•  "This was a daring show, in which they proposed new silhouettes … [leather weaving] was astounding … The remarkable thing about the show was its evolution … Their confidence is persuasive, and so is their skill." [Style.com]
•  "[A] powerful sportswear statement … [The separates] were challenging as well, those voluminous proportions not for the faint of heart … What could not be overstated were the extraordinary fabrics … Seeing clothes so polished and expensive-looking still convey a street attitude is what made it so fabulous." [WWD]
•  "[McCollough and Hernandez] built a truly engrossing and detailed collection — one that is sure to be considered a benchmark of the season…they are no flash in the pan mavericks, but a perfectly matched pair seeking to create a singular vision of fresh originality." [Vogue UK]
•  "New wave karate kid at its best! [A]ll earning the Proenza boys a black belt with the editorial set." [Fashion Week Daily]
See the Full Fall 2012 Proenza Schouler Collection.
•  "The collection was essentially about the hourglass shape, done gracefully … But in the end, as beautiful as his clothes were, they didn't give you much more than a sense of control … [A skirt and a dress made in wide panels] were compelling." [NYT]
•  "[A] strong collection that keyed into the season's new, bigger volumes … [E]ven without the game of peekaboo, these otherwise modest silhouettes looked sexy. That was Costa's real accomplishment today." [Style.com]
•  "[A] bravura display of technical skill, path-breaking draping and advanced fabrics … [the collection imparted] the notion that radically simplified forms are often the most beautiful…the finest expression of modern minimalism with a subtle historic twist that we've seen in many seasons. Yes, that good." [Fashion Wire Daily]
•  "[A] robust collection, in terms of fabric and silhouette … an expected minimalist effort from the impenetrably consistent Costa." [Vogue UK]
•   " [A]ppealing clothes in ultrafeminine silhouettes … His use of thick wools resulted in several great coats, but a few of the dresses in similar fabrics looked heavy … The overall effect was indeed powerful, but the reality of the clothes had a softer side." [Vogue UK]
•   "[T]hese are clothes to think about … Costa's fabric research, always impressive, paid off big-time  … [The last three noir dresses] made the strongest statement about the new look of luxury. Opulent? Not a bit." [Fashion Week Daily]

See the Full Fall 2012 Calvin Klein Collection.
•  "[L'Wren Scott] has loosened up … there is a satisfying eclectic mix … There was more variety in her prints, and she had lovely velvets … But the collection's real merit was in its confident use of color as a medium." [NYT]
•  "The clothes seemed rich … She's come a very long way from making a few fab body-hugging dresses and jeans that make your legs look a mile long … The trick now will be to maintain her distinct point of view. So far, so good." [Style.com]
•  "Her very rich collection delivered it all — even caviar, which, she playfully noted, was served for lunch to correspond with her newest dresses with caviar beading." [WWD]
•  "The clothes had a distinctly vintage flavour with velvets, capes, furs and rich-hued silks…The designer turned out a strong collection of wearable, elegant dresses." [Vogue UK]
See the Full Fall 2012 L'Wren Scott Collection.

MIXED:

•  "You mean Downton Abbey isn't Ralph Lauren's ancestral home? He does the look so well … Oh, Mr. Lauren, you do amaze as you entertain — you are an exceedingly good fashion designer … [The dark plain clothes] are worth putting on a shopping list." [NYT]
•  "[T]his felt like Lauren revisiting and reworking his own oeuvre … The trip down memory lane wasn't one of the designer's blockbusters, but it produced some strong outerwear … the evening looks as a whole felt modern." [Style.com]
•  "[A] smoothly elegant collection … Much of the tailoring was very masculine and all the better for it…Lauren also injected some smartly done edge…[But] the whole collection came across as a tad too restrained. The models did look particularly poised and coiffed and hyper elegant, but there was little feeling of new." [Fashion Wire Daily]
•  "In a season of major fabric awareness, his combinations felt natural and uncontrived … While the styling played to the Downton nattiness, the pieces were utterly versatile…curve-hugging dresses and gowns [embodied a] glorious combination of elegant and sexy." [WWD]
•  "Well cut and draped cashmere double-breasted overcoats were elegant and a number of fitted checked trouser suits struck a chord … [A] stunning Art Deco gold gown swaggered rather than flowed because of its weight." [Vogue UK]