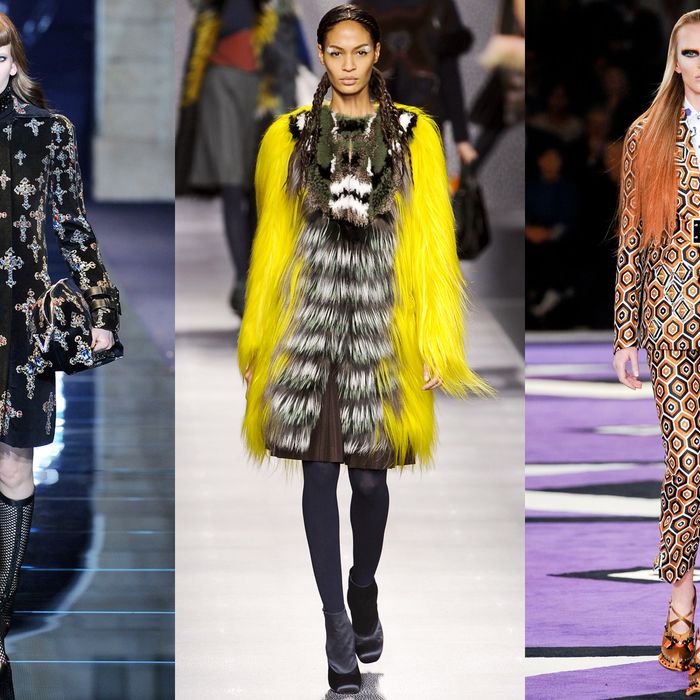 From left: Versace, Fendi, and Prada; Imaxtree
Photo: Imaxtree
THE HITS:

• "In its references, the MaxMara design team took on a lot. And it all worked extremely well. Somehow, you got the essence of that open and creative time, and the suggestion the fashion should again express such freedom … More interesting was how smoothly the past was incorporated into the collection instead of socking you with references." [NYT]
•  "[T]he military and naval tailoring was perfectly done…Graphic black-and-white patterns added variety to the excellent outerwear. And if the martial overalls and jumpsuits seemed overwhelmingly military, they partnered well those famous coats that are Max Mara's forte." [IHT]
•  "[T]his was a strong outing for MaxMara, focused on the power suiting and outerwear for which it's known…Swishy sailor pants in silk jersey and substantial jumpsuits in army green double-face cashmere landed on the plus side, but there's not much call for suspenders in a professional woman's life, nor for caps and ankle-to-knee leather spats…In the end, these were really just a styling trick." [Style.com]
•  "Outerwear was strong overall … Although the styling for the show was a bit déjà vu, recalling a collection by Marc Jacobs for Louis Vuitton a year ago that evoked "The Night Porter," the references to sinister cinema added drama to Max Mara's clean-lined sportswear." [WWD]
•   "It was certainly determined, both in its pursuit of luxury … Full of easy separates and with every piece promising the highest, softest quality, MaxMara eased us into day two of Milan Fashion Week nicely." [Vogue UK]
•  "Strong outerwear got trotted out on the latest MaxMara runway, per usual … Suspenders added a touch of pluckiness to some looks, a hint of the boudoir came courtesy of silky, slip-esque layers." [Fashion Week Daily]
See the Full Fall 2012 MaxMara Collection.
MIXED:

•  "[Miuccia Prada's] challenges everyone, knowing or innocent…[R]eactions online [were] on the order of "I wouldn't be caught dead in that"… Aside from the fabrics, two things brought this collection forward: the eccentric flair of the pantsuits and the elongated line of those sleeveless coats. During the show, I loved the pantsuits; now I've gone over to the coats." [NYT]
•  "Miuccia Prada went back to her basics, but the result was like seeing reruns of early ideas digitally enhanced to a Blade Runner-style futurism…it was the embroidery in all its glassy glamour that brought an extra dimension to this powerful show." [IHT]
•  "[This collection] will inspire waves of admiration and provoke a multitude of women to dress and buy the rather revolutionary looks she offered up, even if this, ultimately, was Prada a couple of points off her A Game…[T]hough an exceptional fashion statement, the collection was a tad too repetitive, as if it lacked a final gear." [Fashion Wire Daily]
•  "The elements Miuccia chose read, in some respects, like a Prada's greatest hits…But such reduction can never do justice to the depth of fascinating thought and research that go into a Prada collection…In its own way, it was oddly seductive. The imposingly stern quality of these clothes will likely lay out an influential new path for womenswear." [Style.com]
•  "These were clothes of a certain gravitas, utterly elegant, even obviously so. They were both restrained and lavish…Challenging? Absolutely. Don't expect to see these patterns coming and going. But what would a Prada show be without a pushed idea or two, even if the lady doth protest? [WWD]
•  "If there can be a single fashion house that can be credited with dictating trends every season, Prada is it…It might sound simple but Prada never is and there's always a bit of humour in the mix… this collection was as much about the presence of colour as the lack of it." [Vogue UK]
"The latest Prada journey was seventies splendor…With Miuccia's deft touch, a jumble as such works swimmingly…[Mary Janes] had the gooey, half-dipped, spillage-prone effect of a Maker's Mark bottle." [Fashion Week Daily]
See the Full Fall 2012 Prada Collection.

•  "At Fendi, the only sharp angles were slim, box-shape bags (and their novelty wore off quickly) … Karl Lagerfeld subtly balanced clean lines with round shapes…What is impressive is how free Mr. Lagerfeld remains to do what interests him. " [NYT]
•  "[F]ew collections have been more dramatic than the latest runway display by Fendi - a bravura moment of eye-popping technique, cunning cutting, excellent accessories and colorful, well, drama … it was the daring contrast of noble materials that made this show so particularly memorable…At times, the adventurous cutting did get a tad carried away." [Fashion Wire Daily]
•  "[T]here was a lot else going on, mostly a little weird, starting with the Heidi-at-the-hair-salon multiple braids … The effect was of a naughty schoolgirl who had cut up pieces of her uniform and added deep corset belts squelching in the waist … [T]he only stand-out pieces were the furs and the bags." [IHT]
•  "There was a curious and charming retro edge in the Fendi collection, evident in details that could almost pass as folkloric were it not for the fact that they were delivered in such an incongruous way. That bustle, for instance … Incongruity may, in fact, be a Fendi signature … It guarantees that this label's collections will always defeat expectations." [Style.com]
•  "Lagerfeld sent out a lineup that could not have been more complicated or, in this age of Minimalist worship, bolder. The sheer effort intrigued, and much of it looked great, though the move from runway to reality will likely involve some simplification." [WWD]
•  "Nothing had been spared: antelope, goat, mink, crocodile…they were layered and wrapped around the models with lustrous abandon … [Lagerfeld is determined] to provide unapologetic, over-the-top luxury when that is what's expected." [Vogue UK]
•  "How luxe can you go? Lagerfeld's girls tend to communicate a warrior vibe—blame it on the extra-wide, almost cartoonish belts—but Silvia Fendi's handbags coax this transcendent goddess back to the city streets." [Fashion Week Daily]
See the Full Fall 2012 Fendi Collection.
•  "Though a tough Versace collection can be a tonic after a few seasons of kitten glamour, especially if the attitude is spoofy, this show felt strangely tepid, with too little variety in the shapes." [NYT]
•  "[A]n emotional collection, but with a joyous spirit … Metal mesh provided a dramatic heavy metal look." [IHT]
•  "[The collection] began brilliantly, but ultimately revealed this house's difficulty in re-modeling itself for our century's second decade…Rock goddess fringes and pancake makeup gave the models a sexy yet stilted air, and made this collection so problematic … [T]his was a modest moment for Versace. " [Fashion Wire Daily]
•  "[This was] a show that ramped up the gothic elements of Gianni's last collection—the crucifixes, the monochrome severity — with a hard-core energy … Donatella certainly brought down the curtain on robotic retro-futurism." [Style.com]
•  "[T]he clothes were all gothic drama and underground kink…To see the designer depart from the levity and exacting polish of her recent collections was a good feeling … letters that spelled V-E-R-S-A-C-E [looked] too flagrant. Giant letter-block prints don't play well on designer turf … More daring, more sex-charged, and more modern was the use of chainmail." [WWD]
•  "The chainmail dresses were like solid body casts, giving the models a perfect hour glass shape but an uncomfortable robotic waddle of a walk that seemed to go against the strong, independent image of woman that Donatella is usually so proud to design for. They were though, ornate and cleverly built to show off every sparkle to perfection in a museum that will one day hold her fashion legacy … Unashamedly, but absolutely, Versace." [Vogue UK]