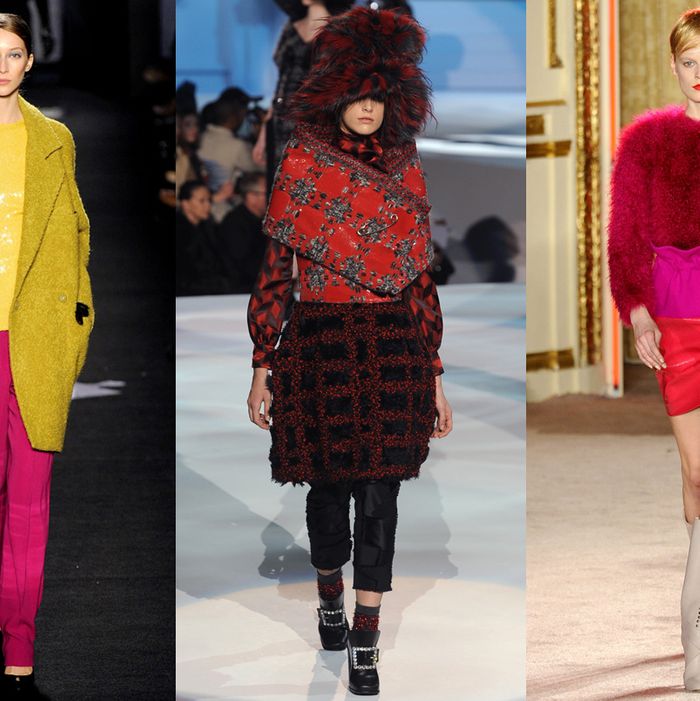 THE HITS:
•  "[T]his fall 2012 collection was a mesmerizing meditation on how rather traditional clothes can become in the right designer hands suddenly very subversive, and downright beautiful … the clothing combinations were frequently rather daffy … a show of arty panache … beautifully memorable." [Fashion Wire Daily]
•  "So much of what Marc Jacobs does — and does well — is a result of collaboration … yes, there was that Oliver Twist, ragamuffin element … the details were as rich as they could be." [On the Runway/NYT]
•  "The getups were off-kilter … Colors were all over the map … Tinsel turned up everywhere..And volumes were turned up too. Padded hips? Prepare yourselves, ladies. It was fearless. And it made you fall in love with fashion and Marc Jacobs all over again." [Style.com]
•  "[A]n off-kilter yarn that was magical, poetic, and garishly beautiful in a way that only [Jacobs] could deliver. In a piled-on cacophony of textures and colours, he evoked a strange sort of folksy glamour … This was a show that wasn't afraid to flirt with the ridiculous, and even the ugly … It certainly wasn't his most conventionally beautiful show to date, but it was though-provoking and prescient." [Vogue UK]
•  "Most looks demonstrated a shushed-up Edwardian undercurrent in their curvature of silhouette … A statement of the beauty and inevitability of mourning from a brilliant, complicated designer no longer young? Perhaps. Or maybe just Jacobs' chic evening alternative to sparkly mermaids. At its best, fashion leaves you wondering." [WWD]
See the Full Fall 2012 Marc Jacobs Collection.
•  "[The collection] showed the mileage you can get from a good cut … This collection had a great range of wearable clothes that incidentally were glamorous" [NYT]
•  "[W]ell balanced, neatly built, and with an undercurrent of seduction…A touch of surrealism, with Salvador Dali "lips" on a bag or multiple "hands" on a dress, added the last piece of the puzzle in this strong show." [IHT]
•  "[A] dressed-up collection that showcased what von Furstenberg called her design partner's 'beautiful palette' … It was their bold, fearless colors that people were talking about as they left." [Style.com]
•  "This season was an exploration of colour and totalities, one of colour-blocking and monochromatic simplicity. Her sense of colour did not fail her … [clothes conveyed] the feeling that you know who this woman is, and that you want to be her ... There was a sparseness and clean elegance to the collection." [Vogue UK]
•  "[V]on Furstenberg's most sophisticated lineup in recent memory, with a distinct Parisian chic. It was highly appealing…The clothes were perfectly suited for a glamorous night on the town." [WWD]
•  "You can always count on DvF for a show with pure joy … Complementary shades of the color spectrum sidled up to one another, to delicious effect…All in all? Heaven!" [Fashion Week Daily]
See the Full Fall 2012 DVF Collection.

•  "Derek Lam's collection was a head trip, as good as it gets … [the clothes] suggest a complex life." [NYT]
•  "Lam's show had a sixties vibe that went beyond the bouffant hairdos and smoky cat eyes … As always, there was great outerwear here…only a modern-thinking designer would pair [Aran sweaters] with long chiffon skirts trailing trains. " [Style.com]
•  "The lines were prim and clean … Solid separates, such as a navy peacoat, were given a sophisticated twist … Leather displayed a clever appreciation of this season's favourite trend, while staying true to Lam's intelligent commercial sensibility." [Vogue UK]
•  "[A] solid collection … Stocked with great clothes, the lot of it could go straight onto the sales floor…Lam worked a fashion-forward yet understandable look that felt very now — and the right amount of then, too, with a nod to mid-Nineties Prada." [WWD]
•  "The man just gets it, season after season … Equal parts punchy, practical, and restrainedly decadent, respectively … Pre-order or prepare to lust after others' latest Lams…" [Fashion Week Daily]
See the Full Fall 2012 Derek Lam Collection.
MIXED:
•  "[A] fantastic show, a demonstration on how to take those fuddy-duddy couture shapes that designers love and make them young and modern." [NYT]
•  "Panichgul aims for the girl in every woman, producing cute pieces … The collection still needed a reality check." [IHT]
•  "Panichgul has explored this erotic territory before…This time around, though, the theme gave him a bit of trouble … [The Mongolian lamb sweaters'] boxy shape didn't do anything for the models." [Style.com]
•  "[A] colourfully dense collection which embraced the jarring, startling nature of harmonious clashing … it was a female-friendly collection in that it would look great on a variety of different body types … Panichgul seemed to be wrestling with a few contentious ideas, and by boldly presenting them together, he crafted an intriguing, provoking collection." [Vogue UK]
•  "If this collection didn't match [his past two collections'] mesmerizing fusion of color and exotic taste, it offered plenty of lovely clothes … An undercurrent of sly irony and subversive sexuality coursed through the collection, winking at bad taste along the way." [WWD]
•  "[A] polished yet fresh-faced collection … The frontal, slightly short slits notched at the front were perhaps the only worrisome detail of Thakoon's latest; everything else felt imminently wearable, with just enough whimsy to be remembered." [Fashion Week Daily]