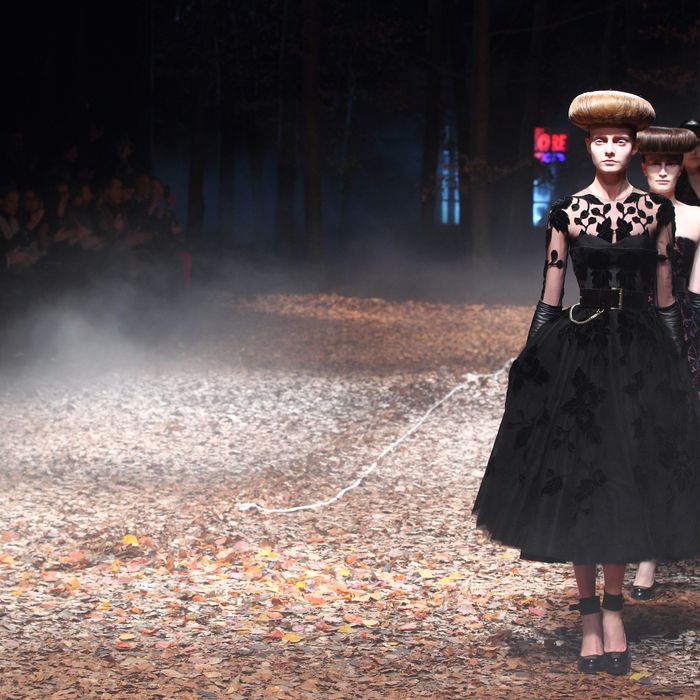 McQ's fall 2012 collection.
Photo: Mike Marsland/WireImage
Sarah Burton presented McQ's first runway show in London last night on a catwalk hazy with smoke and strewn with autumn leaves. The show marked a new era for the Alexander McQueen house, which regained control of McQ in late 2010 (it was previously stuck in a five-year licensing agreement with SINV SpA) and has spent the past year and a half repackaging McQ as a more accessible version of its main line. (You know, clothes you might actually be able to buy and wear instead of just worship at the Met Costume Institute.)
As for the looks themselves: Models' hair was twisted up into flat-topped doughnut shapes above their heads, and their makeup was pale and ghostly. Burton reworked a number of McQueen's signature elements into the collection, including tartan patterns, military coats, corseted waists, full skirts, and high necklines rendered in lace. Some funkier additions showed up, too, like a sparkly red oak-leaf print and tulle skirts embroidered with red flowers. 
But perhaps the best part of the show was its climactic finale: Kristen McMenamy appeared at one end of the runway in a white wedding dress, where she stood under a shower of yet more leaves. She then produced a white rope and began following it backstage, where the lights suddenly went up to reveal a fairy tale cottage. When she got to the cottage and ducked inside, it exploded with disco lights and noise! (Hopefully that's someone's metaphor for marriage?)
Anyway, the McQ line should be getting lots of attention this year, with its first stand-alone store opening in London this spring. If all goes according to plan, it should help to enable the more fantastical elements of McQueen's main line.
Related:
See McQ's Complete Fall 2012 Collection
McQueen's Revamped McQ Collection Will Be 25 Percent Cheaper Than Before
Check Out the First Video for Alexander McQueen's Revamped McQ Collection