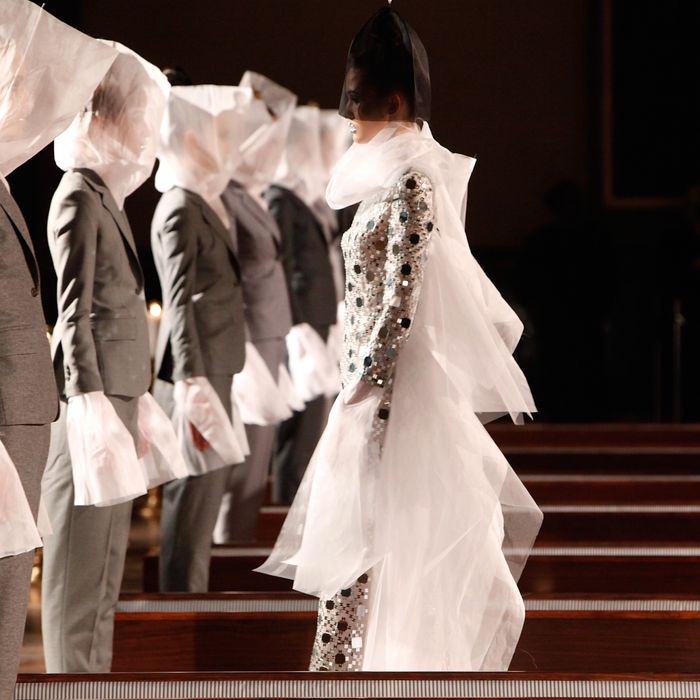 Looks from Thom Browne's fall 2012 show.
Photo: Amy Sussman/2012 Getty Images
As the models got dressed dressed backstage for Thom Browne's show this afternoon, the designer fluffed an origami-esque fold on one of the skirts and called out, "Once you're dressed, please don't sit down! Sorry!" He looked sincerely apologetic. "I know, it stinks."
Even if any of the girls had tried to sit down — which was surely tempting, especially when they had to squat awkwardly for touch-ups from the makeup and hair people, who couldn't reach their heads otherwise — they would have had trouble doing so. Most of the outfits had some form of bustle made of voluminous folds layered atop one another. One girl wore a Victorian-style hoop cage, while another had pyramid-shaped fabric spikes pointing out from each butt cheek, as though she were an upholstered dinosaur.

A whole other set of models got to spend a great deal of the show lying down. When we first walked into the cavernous hall in the New York Public Library where the presentation was held, we encountered ten coffins in a neat row. Being Thom Browne coffins, they were lined with pinstriped fabric. When the show began, a model in Browne's signature wool suiting approached a lectern and delivered a speech about ten girls. "They love life; they love fashion," she read dramatically. "Today, they are dreaming of fall 2012. Enjoy their dream; enjoy their fantasy." With that, the lights went up and ten girls sat up in the coffins (which was a little creepy, considering we hadn't noticed that they were in them to begin with), clambered out, and stood solemnly next to their respective boxes. All of them wore gray wool suits with sheer white fabric over their faces, hands, and feet, so that they resembled very chic beekeepers. 

When all the coffin-models were in position, the other half of the models walked into the room. They threaded haltingly between the coffins, as though sleep-walking. (Some of the models didn't have much choice due to their constricted skirt openings, which only allowed for tiny shuffling steps.) In-keeping with the dreamy, Tim Burton-esque sequence, a few of them wore a sort of stuffed animal creature slung across their shoulders, like a toy companion. The final look consisted of a cream-colored wool dress with a long, spike-covered train that dragged along the floor like a Stegosaurus's. 

When the procession of dream-models had finished, the coffin-models ceremoniously stepped back into their boxes and lay down again while the audience applauded vigorously. Because after watching models tromp up and down catwalks for five days and counting, some theatrics (and dinosaur tails!) were much appreciated.