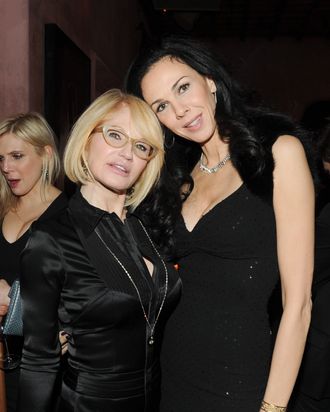 Barkin and Scott.
Photo: Joe Schildhorn /BFAnyc.com
The actress shut down L'Wren Scott's Fall 2012 after-party at the Gramercy Park Terrace last night, after the designer absconded to an elevator with boyfriend Mick Jagger. The two women met on a movie set years ago – Barkin thinks it was Mercy, but said it's debatable – where Scott was the costume designer, and Barkin has been addicted to Scott's structured, sexy silhouettes ever since.
"The brilliance of L'Wren is that body-hugging is your friend," said the actress, blinking behind her cat-eyed glasses. "No matter what your body is like, the ass goes up; the boobs go up; the hips stay in." She stood up in her shining, deep-zippered black satin jumpsuit and, well, that all appeared to be true.
The actress swears the only non-vintage dresses in her closet are Scott's. "It's the headmistress dress that I have in twelve different colors. Long dresses. A gown. Short dresses. L'Wren would make dresses for me all the time, years before she had a line. I would actually go out in order to wear the dress. She'd say, 'Are you going to the Oscar parties this year?' I'd say, 'No.' She'd say, 'Wait till you see your dress.' And that girl could make me a dress in a day with no fitting."
She remembered her first one: hot pink and sleeveless with high-slit sides, a chartreuse lining, and an embroidered peacock. She said she wore it to Vanity Fair's Oscar dinner thirteen years ago. So is she going to the Oscar parties this year?
 "I don't know," Barkin smiled. "But I can shop my closet."