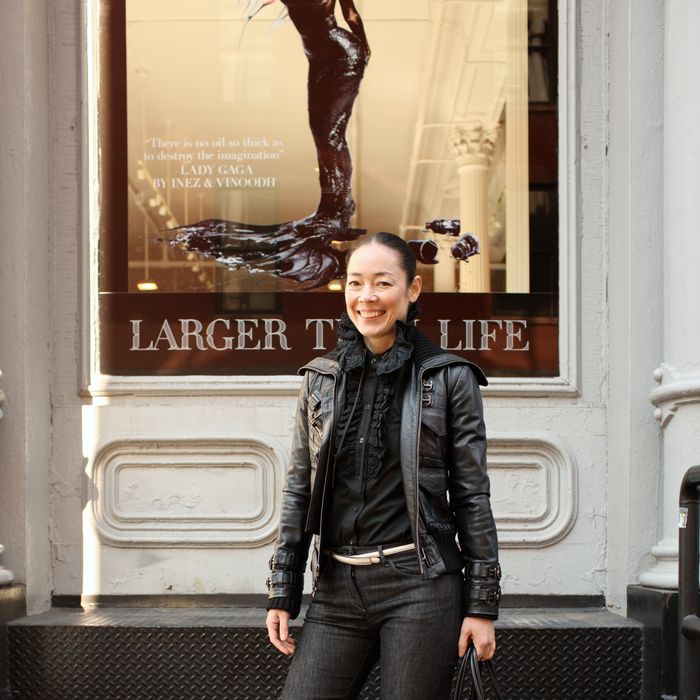 Cecilia Dean, co-founder of Visionaire magazine, has amassed a cult following through her distinct personal style and endlessly fascinating beekeeping hobby. Today, she channels what she calls "the whole fundamentalist Mormon look," mixing a Rodarte leather jacket with a Viktor & Rolf ruffled blouse and black 3X1 jeans. The best part of her outfit? Toe socks she picked up in Tokyo, which peek out of her open-toed Margiela boots (it is chilly out there, after all).
On Cecilia: Rodarte leather jacket, Viktor & Rolf blouse, 3X1 custom jeans, Maison Martin Margiela boots, Chanel purse, and a Tom Binns belt.
About the look: "I usually dress according to what I have to do that day. This is one of my favorite purses. It's so super organized. It's like a holster for a fashion person. You could get to your blackberry, get to your keys, and it's also really roomy, so I have my entire gym outfit and my sneakers in here so I could just go to the gym, stuff it all back in here and show up at the party like this."
See more of Cecilia's fashion week adventures at vmagazine.com.