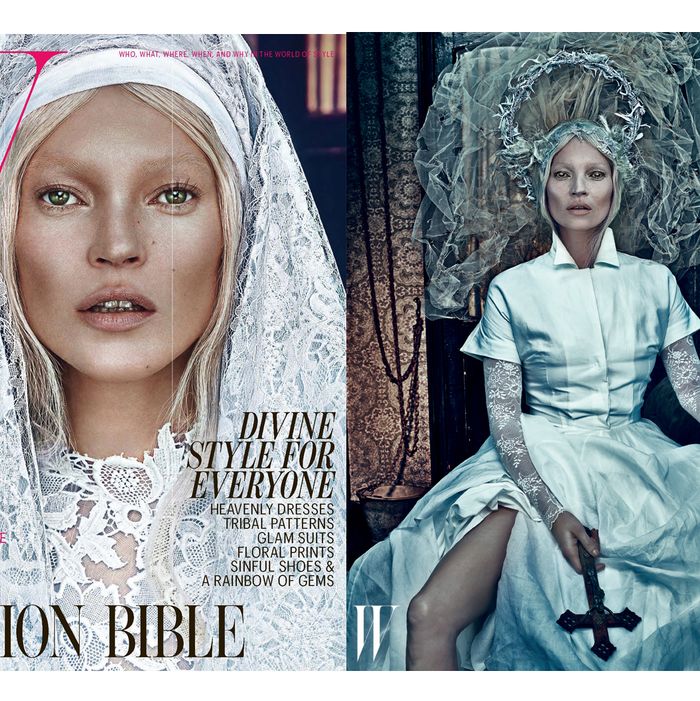 Good Kate (left) and bad Kate (right), shot by Steven Klein.
Photo: Steven Klein/W Magazine
W's March issue features Kate Moss on a split cover, one half with "Good Kate" and one half with "Bad Kate." (Both are quite creepy, it must be said.) They're not only meant to express Kate Moss's enigmatic appeal, but also to showcase those white, lacy, nunlike clothes that were all over the spring runways (cataracts, not so much).  Stefano Tonchi gives us some context:
As I sat through the spring collections in New York, London, Milan, and Paris, I kept thinking about the dichotomy between "good girls" and "bad girls." It's an old trope that the fashion world loves to recycle every few seasons: Vampy women wear tough leather and menacing heels, while their angelic alter egos float by in airy chiffon dresses, embroidered slips, and eyelet shifts. This season, however, the good girls seemed to constantly stray into bad-girl territory, and vice versa. Designers are too savvy to go for straightforward clichés, and what I found most interesting was the way in which they tweaked familiar archetypes.
One woman who has made a career (and indeed, a life) out of subverting the good girl/bad girl premise is our cover star, Kate Moss, who was photographed by Steven Klein and styled by Fashion and Style Director Edward Enninful in some of the season's most extreme outfits … But what is it, exactly, about Moss that has kept us enthralled for two decades?
We still don't quite find out. Rather than an interview, which Kate so rarely gives (and when she does, she gives so little), the magazine has an essay about her by Will Self.  Shot by Steven Klein, "Good Kate" wears a white dress by Vera Wang, a habit by Erdem, and vintage lace by Early Halloween; "Bad Kate" wears a Jil Sander dress, Ashley Lloyd headpiece, and Cornelia James gloves.