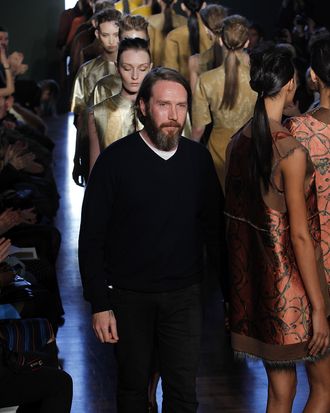 NEW YORK, NY - FEBRUARY 14: Designer Alexandre Herchcovitch and models walk the runway at the Alexandre Herchcovitch fall 2012 fashion show during Mercedes-Benz Fashion Week at The Standard Hotel - The High Line Room on February 14, 2012 in New York City. (Photo by Joe Kohen/Getty Images)
Photo: Joe Kohen/2012 Getty Images
Word association with MADE Fashion Week folks rolls on, and this time we're chatting with Brazilian designer Alexandre Herchcovitch.  For his fall 2012 collection, Herchcovitch explored the concept of excess through innovative applique techniques and pairings of luxe fabrics like suede and shearling. Metallics played a central role, too, showing up in gold leather coats and tipped, unlaced loafers.
But it's not all gilded finery for Herchcovitch. Read on to learn what comes to mind when he hears the word side-boob.
Kilts: Vivienne Westwood.
Tattoos: Special moments.
Studded: Don't use them for first collections.
Side-boob: Not okay.
Options: Happiness.