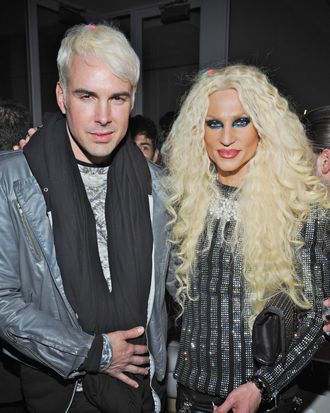 David Blond and Philippe Blond.
Photo: Jesse Lirola/2012 Jesse Lirola
In addition to nipple pasties, chain-trimmed corsets, and motorcycle helmets with ponytails sprouting out the tops, the Blonds introduced menswear this season for the very first time. "Working with Adam Lambert and a few of our male clients inspired this whole male thing," exclaimed Philippe Blond backstage before the show. David Blond was wearing one of their new designs, a snug tee printed with a photographic image of silver chains. "We took the pictures ourselves," he said, pointing to the chain graphic. The season's collection was inspired by motorcycles (as evidenced by the models' helmets and the Batmobile-type vehicle parked on the runway, which apparently belonged to one of the Milk employees). Neither Blond owns a motorcycle, but David's dad does. "David took me for a ride on one of them," said Philippe. "He's a fast driver." To see what the Blonds think of Mitt Romney and sequins, read on.
Sequins:
David: "Sparkle."
Phillippe: "Yeah, I would say sparkle too. What's something else… alcohol! I feel like we should be dirtier with our answers."
Katy Perry:
P: "Glitter, bubbles."
D: "Berries."
P: "Oh, and fruit, and boys."
Conservative:
Both: "Mm, boring." [Both laugh]
Mitt Romney:
P: "Who?"
D: "Yeah, who?"
Cleavage:
P: "Amazing. I love me some cleavage." 
D: "Obsessed, yeah."
Westminster Dog Show:
D: "We'd love to be part of it one day! We have two Chinese Cresteds, Kiki and Bijou. They're so beautiful."
P: "We feed them all organic food, and we bathe them every two days. I take better care of them than I do myself."