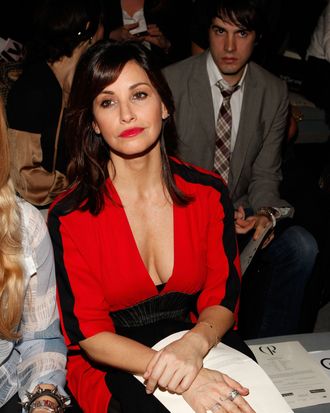 Gina Gershon.
Photo: Cindy Ord/2012 Getty Images
Almost as soon as we walked into Charlotte Ronson on Friday night, we heard buzz that Gina Gershon was in the building and made it our mission to find her in celebrity row. We couldn't possibly pass up a chance to ask her some incredibly important questions about working with Elizabeth "Jesse Spano" Berkley on Showgirls, and whether she ever breaks down and watches Cocktail when it's on cable late at night. How could we resist? That'd be like bumping into Berkley herself and neglecting to sing a few bars of "I'm So Excited" from that Saved By The Bell episode with the caffeine pills. It's just not done.
We started down at the end where Russell Simmons was perched next to his niece, Angela, who brought along a pet dog. Just as with children—of which there was also one in the front row—we always wonder how people have the intestinal fortitude to bring dogs to a fashion show, because what if they pull a Thomas Jane and bolt onto the runway mid-show? If a thirty-something actor doesn't know better, how could a pet? Fortunately for Simmons, the pooch stayed put between her and Russell, and seemed totally unfazed by both the flashbulbs and the furor surrounding Nicky Hilton, who, honestly, we can't believe is still getting invited to stuff. Nicky, wearing a red lace dress, had to wade through the crowd about three times, with a trailing posse of eager journalists waiting for their photo op, before somebody found her a seat in the vicinity of Louise Roe, Cory Kennedy, Sky Ferreira, Jessica White (in a massive fur and with a thick curtain of bangs), Twilight's Nikki Reed, and a lady we are 95 percent sure was Shoshanna Lonstein Gruss.
And none of whom were Gina Gershon. This was fine, we reasoned—after all, as we often say, sometimes the best Fashion Week sightings are the ones that never materialize, like the time Matt Damon was supposed to come to L.A.M.B, but his RSVP turned out to be the work of some nefarious prankster. And so when they hastily cleared the runway, we followed the tide of humanity back toward our seat, and ended up being swept straight past the knees of one Gina Gershon—sitting next to Dree Hemingway in the front row of a totally different section, sporting a bright red top with some impressive cleavage, and stashed in a row full of magazine staffers and then Jonathan Cheban, who you'd only really know from the pained faces he made at Kris Humphries during the past season of Kourtney and Kim Take New York.  Maybe he got to talk to Gershon. God knows after the Kim-and-Kris fiasco, in the absence of real cocktails, she was close enough.
See all the looks from the Charlotte Ronson show.
See photos of Gina Gershon, Nicky Hilton and more in the Charlotte Ronson front row.