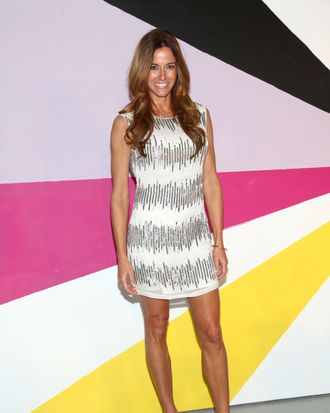 NEW YORK, NY - FEBRUARY 13: Kelly Bensimon poses on the runway at the Alice + Olivia Fall 2012 Presentation during Mercedes-Benz Fashion Week at Center 548 on February 13, 2012 in New York City. (Photo by Astrid Stawiarz/Getty Images)
Photo: Astrid Stawiarz/2012 Getty Images
Alice + Olivia knows how to throw a good party. Every Fashion Week, their event involves free-flowing booze, ample sweets, and loud music, and their presentation on Monday night came off true to form: The booze was pink champagne, the snacks were Magnum ice cream bars, and the blond girls and Bachelorettes who came out to ogle the clothes seemed to appreciate both.
And, yes, that Capital B for "Bachelorette" was totally intentional. We not only spied last season's prize filly, Ashley Hebert—who was there doing interviews as a member of the press, rather than giving them—but also one of this season's already eliminated contestants, Jenna, whom you may remember as the New York blogger who cried a lot. She seems to have dried her tears, however, given that she went through the press line, and we heard her and Ashley wondering perkily to one another if The Bachelor was on yet. "Um, it's only six-thirty," pointed out a potentially long-suffering member of their entourage.
They weren't the only reality show stars—or, er, "stars"—in the house. We also saw Kelly Bensimon sneak in (it's hard for her to really fly under the radar, given that she's about eleven feet tall and as burnished as a young oak tree), and then overheard her breathlessly telling someone that she just "almost died," which we're going to go ahead and assume was hyperbole. Next up was Dancing With the Stars alum—okay, and sideline reporter—Erin Andrews, who was wearing a really, really notably short dress. We also spotted Tinsley Mortimer (who technically counts as a reality show personality, given that she had one for about six seconds on the CW two years ago, right?), who, given her renewed appearances at this particular Fashion Week, appears to be trying to make herself happen again. Sigh.
The Lying Game's Alexandra Chando and Allie Gonino popped by the party in time to see an electric (in the sense of the power source in question, although it was also very good) violin solo by Caitlin Moe. Gonino plays the violin on their show, and she seemed particularly rapt by the performance. "Yeah, I'm not this good," we heard her tell the girl standing next to her. Ah, but Caitlin Moe doesn't get to wear cute cocktail dresses on TV, so things all even out.
Jenna Dewan popped in for about two seconds—long enough to pose for a picture with Johnny Weir and then bail. We can't blame her: If you only have a short window of time, we always advise you to use it to pose for a picture with Johnny Weir. Johnny, new husband in tow, inspired a lot of enthusiasm from the crowd in general. The moment he walked into the venue, the girl next to us gasped. "He's so cute," she gushed to no one. "I can't wait to tell my mom!"
Speaking of Moms, we also spied Serena Van Der Woodsen's TV mother, Kelly Rutherford, who always manages to look cool, classy, and unruffled at these things, regardless of how many rejected Bachelor contestants are eating Magnums in her peripheral vision. "I'm just amazed the writers have kept it interesting," we overheard her say, presumably about Gossip Girl and not, like, The New Yorker. Kelly entered the presentation in a wave of blondes, alongside Smash's Megan Hilty (who is refreshingly regular-sized), who was travelling in a pack with GCB's Jennifer Aspen (sporting an adorable green coat) and Kristen Chenoweth, who looked incredibly pocket-sized in a silver shift, despite the fact that she was wearing giant wedges. Cheno apparently finds Aspen to be endlessly hilarious, because every time we looked over at them, Aspen was talking and Chenowith was cracking up. When the gossip columns start implying there's trouble over on that set, tell them it just isn't possible. Or at least send them over some ice cream bars and see if that helps. (For more Fug Girls, go here).