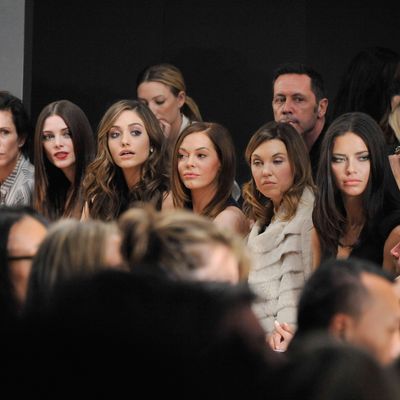 Second from left: Ashley Greene, Emmy Rossum, Rose McGowan.
Photo: Gary Gershoff/Getty
It's a bad sign that when we talked to Rose McGowan at Donna Karen, she had to remind us what day of the week it was. Fashion Week: where, like the Dowager Countess of Grantham, we are confused as to what a weekend actually is. Less confusing than our current location in space and time, though, was Rose's stance on accessories. You see, Donna sent each girl down the runway wearing a mini-fedora perched on top of her head like a fascinator (a fedorinator?), and we asked Rose what she thought — given that the girl once wore a dress made entirely of string to an awards show, we thought she might be woman enough to rock a hat. "I'll be rocking the mini-fedora," she confirmed, nodding. "I have a lot of hats. You just have to force yourself [to go out in them]." One thing she will not be forcing herself to wear, however, are a pair of UGGs. Don't worry: this did not come up because of anything that happened in the show. Donna Karan is not dressing her models like it's 2008 and they're Paris Hilton loitering outside of Kitson. Instead, we asked Rose what was next on her agenda, and she told us that she was ready to go home and get comfy. But not in UGGS. "I do not own UGGs," she said. "For the record. I will never own them. I will never, ever, ever own them. And when I see people outside in a line trying to get into the UGG store in Soho, I think it's a sign of the apocalypse." Thank God at least one actress is holding firm against the scourge of the UGG boot. So many of them have succumbed.
McGowan wasn't the only smartly-shod starlet in the front row today. We also spied Karan's current It Girl, Ashley Greene (whose hair is seriously so shiny that she should have a shampoo contract),  Shameless's Emmy Rossum (whose hair was so bouncy that she, too, should have a shampoo contract), and Adriana Lima (who probably does have a shampoo contract), all of whom were instead sporting Louboutins. Apparently, Karan has a thing for a well-coiffed, well-heeled brunette. The girls seemed particularly moved when the show closed with Whitney Houston's "I'm Every Woman," which — in addition to being unfortunately timely — tied in well with its theme, which was (per the programs) "WoMan" [sic], and which had something to do with … well, we don't really know. Small hats and menswear styling, at the very least? Regardless, when Whitney's dulcet tones blasted out of the PA system, Rose McGowan pulled a sad, "oh girl," face and clutched her chest, and Emmy Rossum literally started singing along in her seat. And the truth is, both of those reactions seemed like the right one. (For more Fug Girls, go here).