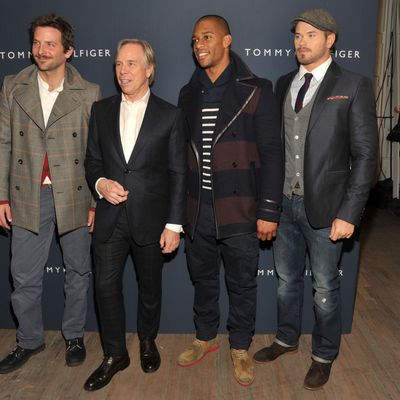 Bradley Cooper, Tommy Hilfiger, Victor Cruz and Kellan Lutz.
Photo: Joe Corrigan/2012 Getty Images
Something must be in the water in Hollywood. At Tommy Hilfiger's menswear show on Friday night, we saw not one but two actors sporting some serious Fashion Week facial hair with real villainous flavor. From some angles, Bradley Cooper and Kellan Lutz just looked like regular dudes who got tired of shaving, but then they'd turn their heads just so, and suddenly their scruff-and-a-soul-patch turned them into the spitting image of your most Machiavellian Sim, whom you named Voldemortimer, and who is a hot second away from tying his neighbor to the train tracks.
Lutz shared a café-style table – Hilfiger did up the Park Avenue Armory like we were outside at Bryant Park, right down to the little green four-tops – with Cobra Starship's Gabe Saporta and British actor Giles Matthey, who just joined the cast of True Blood, and who therefore was probably enjoying one of his last outings in a shirt before the delicious, half-naked hedonism starts. We also thought we spied Peter Brant Jr. across the way in khakis and a high-fashion letterman's jacket of some ilk, but considering that he's generally spotted sporting a suit and an ascot, perhaps it was just a Brant doppelganger who hadn't done his research.
Cooper sat at the next table. We imagine it almost never happens that a lady passes him by without trying to undress him with her eyes, but we found ourselves presented with an unusual conundrum: hang with Mr. Cooper and risk an inane, regrettable moment in which we ask something idiotic about Alias, or blow past Bradley in favor of talking football with Super Bowl champion wide receiver Victor Cruz. Lucky for Cooper, we chose the latter, confessing to Cruz that he was on our fantasy football team… last season. "Ooh, I killed you," he winced. "Did I hurt you bad?" We assured him our problems neither started nor ended with giving him a roster spot, then wondered if he'd give himself one. "I don't play. Some of us do, but I don't  — not enough hours in the day. I think it'd be bad luck to draft yourself, though." Then who would he take? "I'd take Eli. It's gotta be Eli," he nodded. "Especially after this year." Smart way to keep Manning-the-Younger happy. Here's another: When we asked which teammate Cruz thought most needed to come with him for some fashion guidance, he thought for five seconds and then most definitely did not call out his QB: "I'd say a fellow receiver named Ramses Barden. We see each other in the same room a lot, and he needs a little bit of work," Cruz chuckled. "Tommy would be right up his alley."
In fact, Cruz, who is very charming and handsome, seems to have adjusted pretty quickly to the pressures of the press. "This year was a crash course in New York media for me. It's tough, you have to be very careful. It's a bit of a love-hate relationship," he said. "Mostly love. Especially right now. We get a lot of love, lots of congratulations." Then he paused. "And lots of moms who want to kiss me." We hope he puckers up and enjoys it.
See all the looks from the Tommy Hilfiger show.
See photos of Bradley Cooper, Kellan Lutz and more from the Tommy Hilfiger front row.