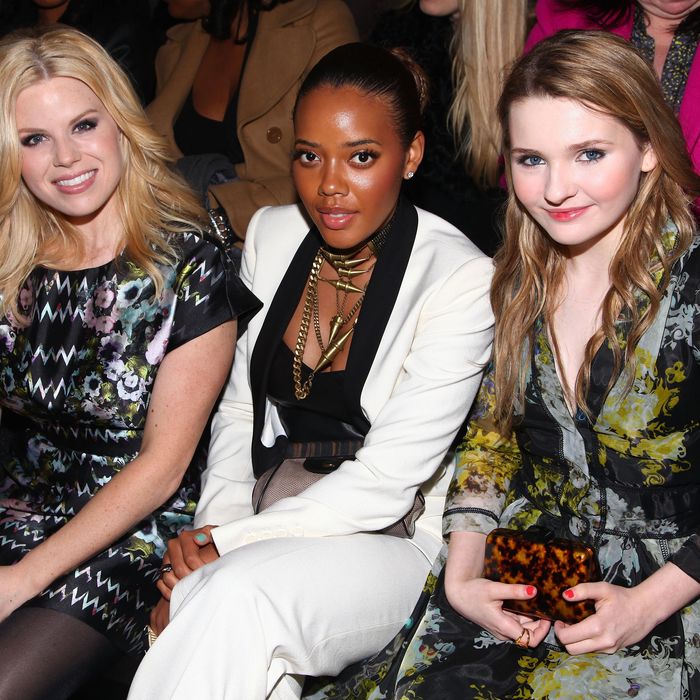 From left: Megan Hilty, Angela Simmons, and Abigail Breslin at the Cynthia Rowley Fall 2012 show
Photo: Astrid Stawiarz/2012 Getty Images
Blessedly, and despite our constant fear that the Grammys steal all the boldface names in February, it didn't take long for Fashion Week's front rows to yield a newcomer. Megan Hilty, star of  Broadway and NBC's Smash (you know, the show that's "introducing" Katharine McPhee? Maybe you've heard of it?), glided into Cynthia Rowley's show Thursday night and almost made it unnoticed, until reporters spied her impressively thick and shiny mane of blonde hair and tripped over themselves to get a quote. And we nearly got a really good one: We thought we heard her say, "Oh, Snooki, I'm a huge fan of her work," and for about thirty seconds we went mute until we realized a) she had said, "Cynthia," and b) "Snooki" and "work" are mutually exclusive, so it would have been an inconceivable sentence anyway. For Hilty's sake, we're relieved our shock rooted us to the spot long enough to ferret out the truth.
Friendly and adorable in a patterned Rowley frock, Hilty spoke highly of co-stars Uma Thurman and Nick Jonas—"He's so professional, I have to keep reminding myself he's only nineteen"— and mentioned that her ideal guest stars would be Kristin Wiig or Melissa McCarthy (and we have to agree, especially because Smash might be the only other logical home for Wiig's "Secret Word" SNL character). Considering that we like to unwind from work by belting out Britney at top volume in the car, we wondered how Hilty unwinds when singing is her job. "I like to sing terribly," she confided. "I've taught Kat [McPhee] how to do it, too, so now we do duets on set together and drive everyone crazy. We like to make up songs about anything that comes to mind, so not only is the tune terrible, but the lyrics are terrible." We do that, too. Just the other day we composed a very sensitive ballad about pre-made deli sandwiches. Does that mean we can be on Smash? We'll expect a call.
Down the way, Rowley pal Rebecca Romijn—in seriously enviable gold sandals and what looked like a black leather dress—held court for some TV cameras near a very composed and grown-up-seeming Abigail Breslin, whose interview requests were vetted by her kindly mother. We also spotted Gossip Girl's Kelly Rutherford, sadly minus any of her TV relatives, and Fashion Week mainstays Leigh Lezark and Angela Simmons (who is already hot in contention to wrest our annual Most Ubiquitous award from the still-absent Sophia Bush). But our favorite sighting came just before the lights went down, and we noticed a pint-sized Toni Braxton waiting anxiously alongside a couple PR girls for a seat to materialize. Luckily, one did, in the front row. After all, when Toni Braxton asks you to unbreak her heart, you'd better uncry those tears.