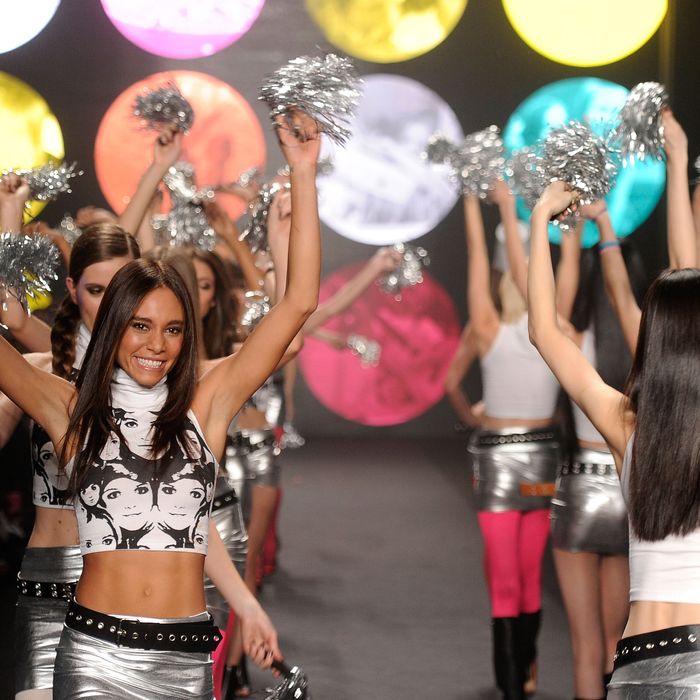 NEW YORK, NY - FEBRUARY 13: Modelsl walk the runway at the Betsey Johnson Fall 2012 fashion show during Mercedes-Benz Fashion Week at The Theatre at Lincoln Center on February 13, 2012 in New York City. (Photo by Frazer Harrison/Getty Images for Mercedes-Benz Fashion Week)
Photo: Frazer Harrison/2012 Getty Images
For some reason, the more tired everyone is at Fashion Week, the more cutthroat it becomes among the journalists who just want to get the scoop and then get home for Real Housewives. For example, as everyone filed into Betsey Johnson on Monday evening, we saw a random attendee take a bad step and wipe out on the runway; people nearby did help her up, but not before a credentialed photographer ran up, ruthlessly documented her face-plant and subsequent struggle to get vertical, and then fled without even stopping to ask if anything was broken. (It wasn't.) "Have they no mercy?" quipped a girl next to us. Presumably the guy was just covering his behind in case the fallen turned out to be a big-name editrix, but we have to agree: It's a team sport, y'all. Play with honor.
Luckily, a pregnant—though barely visibly—Kristin Cavallari made it inside without a mishap. She looks exactly as svelte as she usually does, but with a slight curve at the stomach that on most people just means Donut Day. Cavallari was tight-lipped about how far along she is with Chicago Bears QB Jay Cutler's child—second trimester, she confirmed, and she'll likely be pretty big this summer, but not so far along that they know the sex of the baby yet (we'll let you do any related math). "We aren't decorating until we find out, but we did go to Baby Gap in Chicago and they have everything in Bears colors, so we scored that," she said. We also heard her diplomatically discussing Gisele Bundchen's now-infamous rant about the Patriots receivers—the gist: It's understandable to defend your man but "in the sports world, you have to be careful"—and she noted that while she hasn't had to change too much of her beauty routine to account for pregnancy, she's gotten no shortage of advice on the matter. "Everyone has an opinion, and the things they think are the absolute best things to do," she said. "But it's actually great. I'm open to it. I'm the first one of all my girlfriends to have a baby, so I need the advice." Here's ours: Don't name your baby after anything edible, and don't worry about anyone else's opinion.
Nearby we spotted Amy and Nick, a.k.a. Karmin, the engaged YouTube duo who were just the musical guests on Saturday Night Live, where Nick got to meet his crush Kristin Wiig and seemed pretty stoked to report that she had touched him three times while congratulating him on their performance. (Amy's equivalent is Kanye: "He is the ultimate.") They seemed a little blown away by their whole experience—"If you wrote a movie script about this, they'd read it and be like, 'This doesn't even make sense,'" we heard Amy say—but we are pleased to report that Amy's signature cranial poof was standing strong amid the whirlwind, curling high and round over her forehead like a hair fascinator and without even a question of deflating. "It's all pins and hairspray. That's the only secret," she said. "I did a tutorial for it online. By now it only takes me, like, five minutes, tops." Shenae Grimes of 90210 arrived next, wearing a blue dress with an opening in the back that exposed a black bra strap—although we suppose a visible bra is better than visible nipples. Grimes boogied to Betsey's mash-up soundtrack throughout the show, perched alongside Cory Kennedy, Coco Rocha, Adrienne Bailon, and Noted Fashion Photographer Nigel Barker. One section over, Erica Dasher and India de Beaufort from ABC Family's Jane By Design beamed widely at everything that came down the runway (especially Betsey's signature cartwheel into a split, which gives us sympathy pains every time we see her do it). Although we are a tad concerned that Dasher appeared enthusiastic about one particular very tight, very stretchy patterned catsuit. Stay strong, kid. Leave that kind of stuff for The CW. (For more Fug Girls, go here).