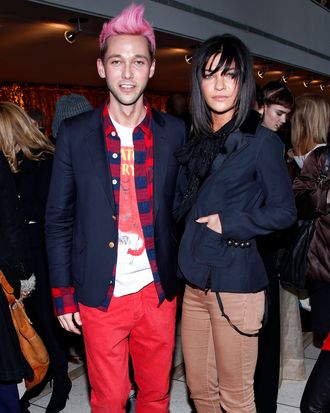 Designer Chris Benz with Jessica Szohr at Benz's Fall 2012 show
Photo: Brian Ach/Getty Images
We'd been a little worried about former Fashion Week mainstay Jessica Szohr, whose ubiquity took a hit once her character was written out of Gossip Girl. But when she arrived at Chris Benz's presentation Monday afternoon, Szohr looked none the worse for the decreased spotlight—in fact, not only was she well turned-out in casual pants, leopard shoes, and a blazer with leather lapels, but her hair was better than we've seen it in ages. From this, we extrapolate that, all along, it was Vanessa From Brooklyn (to quote those awkward SoBe radio spots) who was to blame for those ratty extensions, and perhaps Szohr secretly is relieved her alter-ego fled to Spain so that she no longer has to wear three tons of rope attached to her head.
Szohr was joined at the show by Gossip Girl's Kaylee DeFer, although we never actually saw them in each other's orbit, so we have no idea if it was awkward or not—in fact, for all we know, they hugged like old school chums and traded stories about Blake Lively's hair. DeFer, in fact, has a red dye job now, and we overheard her telling a girl who we think was an event staffer that she'd be attending the party later. "I hope you have drinks," she added, in a sympathetic way that suggested she thinks all PR and organizational types at Fashion Week desperately need to kick back with a vat of gin and a bendy straw. She's probably right.
Our favorite sighting, as ever, was Johnny Weir—a beacon of kooky color in a plaid jacket and red trousers with a thick stripe down the outside that reminded us of the pants the royal guardsmen wear in England while they're standing outside Windsor Castle trying not to smile when tourists goad them. He also had on a floral shirt and green shoes, the latter of which was an improvisation. "Chris picked it all out. I just went to the studio and grabbed everything except for the shoes—I can't walk in the heels," Weir said. What? Scandale! "No, don't worry, I can totally walk in heels. I just can't walk in Chris's heels. They're crazy high," he explained. With his new husband nearby, Weir beamingly discussed his recent marriage and upcoming plans for a celebratory big-bash wedding. "We're gonna blow it out, Johnny Weir-style. I don't do anything half," he said. "It's going to be next fall or winter. I'm thinking a possibly skating-related celebration." Oh, please, put the bridesmaids on ice. Wait, hang on: "They'll be maids of honor. I don't need bridesmaids, I need the 'of honor.'" Fair enough—then we'll hope for Bridesmaids on ice instead. (For more Fug Girls, go here).