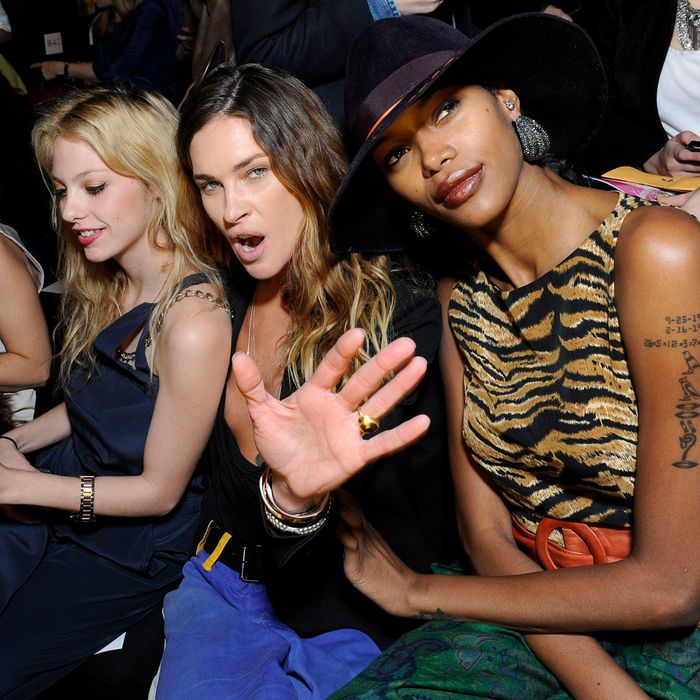 Cory Kennedy, Erin Wasson, and Jessica White attend the BCBG Max Azria Fall 2012 fashion show during Mercedes-Benz Fashion Week at the The Theatre at Lincoln Center on February 9, 2012 in New York City.
Photo: Eugene Gologursky/Getty
Just as the Olympics begin with an Opening Ceremony, so too does Fashion Week, in the form of BCBG — the first show of the season for us, with the inaugural front row.  More often than not, those spots hold clues to the celebs we're going to see over and over (and over and over) through the next week. So, what did we learn this morning? Plenty: first, that party girl Cory Kennedy is actually capable of dragging herself out of bed at 10 a.m. on a Thursday (assuming she ever went to it in the first place, since it looks like she hasn't slept in three years) although the state of her hair suggested dragging as the operative word there. Second, that Cory's seatmate — and sometime lapmate, given that we briefly saw her perched on it — model Erin Wasson, has no compunction about going out in a jersey shirt open to the navel. At 10 a.m. On a Thursday. And third, that model Jessica White might be kind of embarrassed about that sheer white jumpsuit she wore a few nights ago that resembled polygamist-cult lingerie. How else to explain the size of her purple hat? It was large enough that it threatened to knock Wasson in the face, and in fact, prevented us from being 100 percent sure it was actually White under there — which, when you're a model, is rather like hiding your light under ten bushels. Isn't the whole point of doing the 10 a.m.-on-a-Thursday dance that people recognize you? It's no good if all the bloggers are tweeting that you're actually Carmen Sandiego.
Wisely, Today's Maria Menounos hid none of her light under anything, but instead popped up wearing an extremely body-conscious dress that showed off her enviable assets.  Listen, if our bodies looked like that, we'd do the same: She looked healthy and enviably flawless, and seemed to know it, given that she was super smiley to the photographers and reporters swarming the front row,  despite the fact that they nearly prevented her from making it to her seat. They apparently put her in the Bouncy-Haired-Brunette section, as she posed for pics next to Giada DeLaurentiis, and yes, all the rumors you've heard about the size of Giada's head are true. It is tremendous.  Maybe that's where all the calories from her meatballs are going.
Down the row a bit — blessedly protected from Wasson's sternum — was Erica Dasher, whom you may know as the titular character on ABC Family's Jane By Design. Erica looked tiny in a flapper-esque fringed cocktail dress, and she seemed overwhelmed by the insane crush of press. She also, however, seemed quite sweet — even shooting us a self-deprecating smile when we had to squeeze past her to get to our own seats — so we have some advice to impart: Don't worry, kid. It's day one. By Monday, everyone's going to be too tired to bum rush you, so just keep trucking. You can do this. (For more from the Fug Girls, visit GoFugYourself.com)