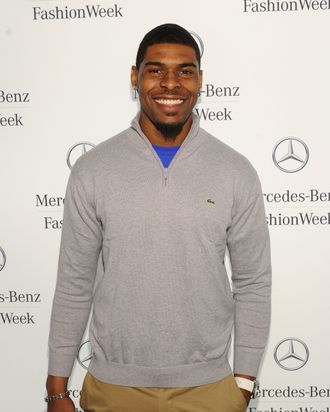 Ramses Barden
Photo: Michael Buckner/Getty Images
The combined competition of Grammys and the BAFTAs being on Sunday always risks casting a long, lonely shadow over Fashion Week's front rows, and clearly the press pack's anxiety about that is already bubbling. "Ugh," one of the photographers said Saturday morning at the Jill Stuart show as he pushed past us. "It's crazy in here … for nobody." Another person seemed utterly distraught that "only Olivia Palermo is coming," as if horrified that Stuart — recently so reliable when it came to providing press access to, at the very least, Kardashians and Housewives — might ultimately serve us only one (albeit very well-coiffed) socialite.
Luckily, rumors of nothingness were exaggerated. Olivia Palermo did show, arm-in-arm with Twilight's Nikki Reed, who is much prettier in person, and about a bajillion times lovelier than they make her look in those movies. She should sue. Reed and Palermo actually look like they could be sisters, with the main but very real difference between them being that Olivia looked cranky and cold, and Reed was bubbly and chatty, gushing about Stuart  — "She dresses women," Reed said, gesturing at herself — and happily flashing her giant diamond engagement ring and wedding band. And in the end we did get a (former) Housewife in the form of a predictably overtanned Kelly Bensimon, who snuck into her seat almost unnoticed and spent the entire show chatting up New York Giants wide receiver Ramses Barden.
His appearance was inadvertently timely: At the Tommy Hilfiger men's show on Friday, Barden's teammate Victor Cruz called him out as the fellow Giant most in need of a fashion intervention. "He said me?" Barden cackled of Cruz's remark when we passed it along. "You know, we have a joke going throughout the year — I wear the same thing at the facility every day, and he's like, 'Why don't you ever put on some real clothes?' and it's like, 'I'm not going OUT.  I'm not going to wear anything worth seeing just for you ugly people!"
Barden definitely spruced up nicely for the front row — little wonder, as we heard him telling another reporter that he owns about 40 pairs of shoes, making him a man after our own hearts — and possibly also for the benefit of the gaggle of runway models he'd be mingling with all day. "I do try to clean up a little. I can't be here in sweats and junk," he grinned, straightening his posture and smoothing his grey Lacoste sweater. (If he'd had a collar, this is totally when he would've popped it.) He also had on ginormous twinkling diamond studs in his ears, the value of which he refused to disclose to a reporter: "My earrings are my secret. I have to have some. I can't tell you everything." Then he chortled again. "When this year starts, I'm going to be the best-dressed man on the team." The gauntlet has been thrown, Cruz.
Ramses also noted with glee that going from the Super Bowl to the front row felt like "the necessary progression," but said he doesn't think starting a clothing line — as Cruz supposedly is — will happen. "It seems like a lot of work — a year to plan just for eight minutes on the runway," he said, before a passing fan threw her hand in his face and screamed, "GO GIANTS!" Barden smacked it and kept talking without missing a beat, something that happened at least two more times that we saw. So you know what? Do your worst, Grammys. We have the Super Bowl champs.
See all the looks from the Jill Stuart show.