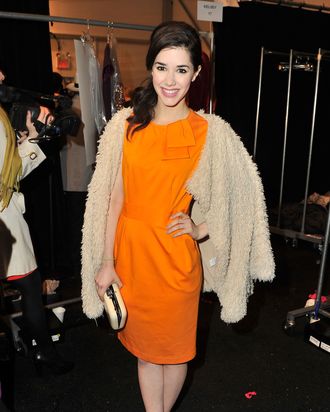 Erica Dasher.
Photo: Stephen Lovekin/Getty Images
Ever since Nanette Lepore poked her head out of her storefront on an episode of Jane By Design, we'd been expecting to see star Erica Dasher in the front row at Lepore's show — and on Wednesday our deductive powers proved correct. Dasher, who's been in town for the week with co-star India de Beaufort (because ABC Family is seriously stepping up its PR game), has blown our minds to an envious, chunky pulp: Even after we talked to her and got a good up-close look, we were certain she was just a preternaturally well-spoken and thoughtful 16-year old, and were preparing  to give props to her parents; then we found out she graduated from high school in … 2004, which would make her maybe 25, and now we're kicking ourselves for not asking her what face cream she's using to keep herself looking too young to legally vote.
Dasher admitted needing to sit down for our chat because her feet hurt, which was apt because our first observation was that each episode of her show features her rushing around town in multiple pairs of sky-high shoes. "I always say it's punishment. I broke my ankle before we shot the pilot, so during the pilot I had a body double and they framed my feet out of the entire episode," she smiled. "So I tease them that they punish me by making me run in heels everywhere now. I still don't know that I'm very talented at it." She wrinkled her nose. "Actually, the more expensive the shoe, the harder it is," she confessed. That makes us feel a lot more smug about our modest shoe budget (and a lot more impressed by how everyone at Vogue moves so fast). Though they're not sure yet if the series is returning for a second season, Dasher did at least get a pretty stellar end to her first: The show wrapped production with four days shooting scenes in Paris that aired in a midseason episode (in which, yes, most of the stuff involved her tottering around at unsafe speeds on stilettos, past things like the Dior storefront — although they did at least have her trip once for realism). "We finished the series under the Eiffel Tower. They called out 'series wrap' and then the tower lit up right at eight o'clock, and it was my birthday while I was shooting there, so it couldn't have been more perfect," Dasher said. "I still can't believe I got to do that. This is my first job. I'm spoiled. I'm spoiled for the rest of my career." Maybe, but at least she's coming out of it with a marketable skill: Every girl needs to know how to run in heels.
Dasher's co-star, De Beaufort, was impressively chipper despite having had a travel catastrophe when she arrived earlier this week that sounds like something out of Mythbusters. "My luggage melted," she said. We didn't even know that was physically possible. "I had a garment bag and it got caught under the truck coming on the plane and dragged, and the friction melted the bag," she explained. "Tore it to shreds. I had several coats and shoes ruined." We would still be crying if that happened to us, but she cheerfully noted that these things happen ("I did have three total bags, which is terrible"), and that the airline was very kind, and hey, at least she got to spend the week shopping for replacements. "The fear was, I'd also made a few things [in the bag] which had taken me a couple weeks to sew," she said. "Thank God they weren't damaged."
In fact, everyone at Lepore was in a pretty good mood — even Stanley Tucci, a front row fixture there who usually seems like a total crank. This time around, though, Tucci escorted his fiancée, Felicity Blunt — sister of Emily — and was smiley, and chatty, and friendly, and posed for countless photos. We guess the love of a good woman can coat any crabapple with sugar. Dreamy model Tyson Beckford sat across from them, and down the way, we saw Arianna Huffington and the Today show's Bobbie Thomas. Kristen Chenoweth also sailed in, wearing a very short, very doily-adjacent white dress that we overheard her tell someone she bought in Vegas. Chenoweth never seems to have a bad time anywhere she goes — we've seen her at three or four other shows this week, and she's always gracious, laughing, smiling, and chatting up a storm. We bonded with her over our secret TV viewing habits, which consist of two words: "Real" and "Housewives." She concurred with our love of Lisa Vanderpump, but picked the home team when asked for her favorite. "The ladies of New York are our girls!" she crowed. "We've gotta give it up for New York!"
But the pair we ended up ogling the most was Gossip Girl's Matthew Settle and Kelly Rutherford, who also attended Alice + Olivia together, and who seem very close indeed — at one point, Settle even wrapped his arm around Rutherford while they spoke to a seatmate, and gave it a squeeze and a gentle rub. Sure, maybe they're friends, but we'd much rather believe Rufus and Lily — who are both single in real life now — are having a torrid and saucy love affair. Can we go ahead and start that rumor? After all, it was Valentine's Day yesterday. Love may still be in the air.