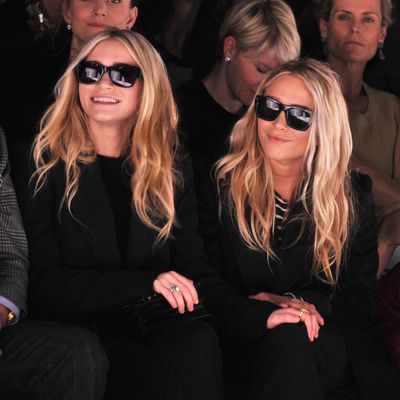 Ashley Olsen and Mary-Kate Olsen attend the J. Mendel Fall 2012 fashion show during Mercedes-Benz Fashion Week at The Theatre at Lincoln Center on February 15, 2012 in New York City.
Photo: Stephen Lovekin/Getty Images
We've often wished Mary-Kate and Ashley Olsen would start pranking the press by dressing the same, given that they're virtually identical despite technically being fraternal. On Wednesday at J. Mendel, we got our wish. The pint-sized designers — we seem to be at the point where they've pushed "actress" way down on their resumes — perched in the front row clad in matching and deeply fashion-y ensembles: black clothes, black coats, giant black shades, and their signature slightly mottled blonde hair. They leaned the same way to talk to the same people, smiled the same half-grins whenever something amused them, and generally made it impossible to discern which was which (our tell is usually the eyebrows, but the shades quickly nixed that strategy). "Is that one Mary-Kate?" we heard one photographer ask. "Yes," said his friend. "Wait, no. Wait, yes. No?" We never settled it; although they talked plenty to each other and their seatmates during the show, the Olsens arrived when the house was full and fled in a New York minute once the lights came up. Our true hope is that one of them was secretly Elizabeth, in what would've been the greatest prank of all. Otherwise, maybe they should just start wearing custom-made jerseys.
Their presence was the hottest buzz of the show, with reporters huddled around their seats grumbling good-naturedly, "Yeah, they're here, but they'll never talk," and one well-heeled attendee speaking in hushed tones about procuring a front-row seat: "Just put me anywhere away from the Olsen stuff." Model Jessica Hart and Kelly Osbourne were undeterred, sitting in the same section if not exactly Olsen-adjacent; while Hart showed off the hot-pink streaks in her hair, Osbourne fielded questions about her colleague Joan Rivers ("She's hilarious") and seemed startled at how snippy people can get about the perceived status slight of not getting a front-row seat. "Like, isn't it enough that you're here?" she said incredulously. "I'm like, 'You know what, I'll go stand over there, I don't mind, take my seat if it's that important to you.' But why is that important?" Amen, sister.
See the complete J. Mendel Fall 2012 collection, plus front row and backstage photos.