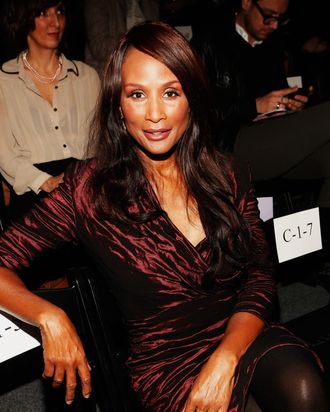 NEW YORK, NY - FEBRUARY 10: Model/actress Beverly Johnson attends the Nicole Miller Fall 2012 fashion show during Mercedes-Benz Fashion Week at The Studio at Lincoln Center on February 10, 2012 in New York City. (Photo by Cindy Ord/Getty Images for Mercedes-Benz Fashion Week)
Photo: Cindy Ord/2012 Getty Images
Nicole Miller's show on Friday evening was a mélange of people you've never heard of, people you've kind of heard of, people you pretend you've never heard of so that no one knows the full extent of your addiction to trashy television, and then Beverly Johnson, who looked amazing and was sitting just a few chairs down from Elle's editor-in-chief Robbie Myers — prompting us to decide that Beverly must be in line for one more cover (wouldn't that be awesome?).
As we were snaking through a clutch of photographers — all of whom were trying to decide if they needed to be taking pictures of actress Meredith Ostrom, whose skirt was so short she had to protectively hold her purse against it so as not to flash anyone — we found ourselves stuck behind Stephanie Seymour's youthful socialite son, Peter Brant Jr., who was naturally wearing an ascot. "So that's why we got such bad seats," he was saying to a friend, who was wearing giant dark sunglasses, despite the fact that it was already incredibly dark inside the venue. We never found out why — did they insult someone else's ascot?  Inquiring minds want to know — because we were swiftly pushed along, and almost right into the lap of British "personality" Louise Roe, who was wearing shorts so tiny they were essentially tap pants, paired with what we are pretty sure were flesh-toned pantyhose. Apparently the Kate Middleton effect has crossed the pond.  Now, if only her bouncy, voluminous hair was contagious.
Also spotted: Jane by Design's India de Beaufort, whose new short haircut has made her almost unrecognizable. We, in fact, almost didn't recognize her, despite the fact that we watch both that show, and her previous gig, One Tree Hill. Hopefully she'll pop up again this week, because we've got several burning questions about Chad Michael Murray, and Sophia Bush is nowhere to be seen. And, frankly, we're worried.
See all the looks from the Nicole Miller show.
See photos of Sarah Ziff, Tinsley Mortimer and more at the Nicole Miller party.