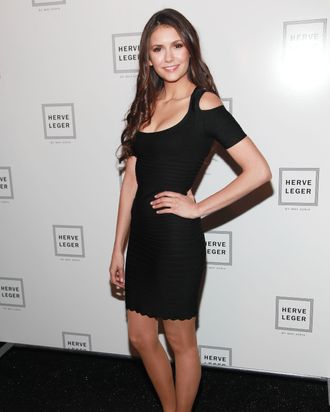 Nina Dobrev backstage at the Herve Leger fall/winter 2012 collection
Photo: Astrid Stawiarz/Getty Images
The early fuss at Hervé Léger on Saturday afternoon centered around a redheaded celebrity in the front row that most of the foreign press didn't recognize. We couldn't see who it was at first, but fortunately, all the whispered confirmations in at least four different languages—Fashion Week, a modern-day Babel—contained two key words that sounded the same in all of them: Poppy Montgomery. The Australian actress is better known as a blonde, but went red for CBS's Unforgettable—ironic, considering we had not only forgotten it was still on the air, but that it existed at all. Maybe she should go back to highlights for her next gig, although in the end, the brief wisp of anonymity may have worked in her favor, as she ostensibly made it to her seat without getting any elbows in the ribs.
Blonde-as-ever Kristen Chenoweth had a slightly tougher time, pint-sized and famous as she is, but she finally did make it safely to her front-row perch between two other flaxen-haired folk: Tinsley Mortimer, who we can't believe is still happening, and actress Jennifer Aspen, who is Cheno's co-star in GCB. (You may know her as we do, from Party of Five, when she was Charlie Salinger's baby-mama; however, somebody really needs to update her bio on IMDb, which claims she's "currently" starring in a sitcom named Rodney that went off the air in 2008. Doesn't she have any peeps?) Watching the trio pose for photos together was an exercise in monochrome: same blonde hair, same bronzer shade, same white smiles. Although the three of them were very chipper together, with Chenoweth gossiping happily with both ladies and Aspen appearing thoroughly delighted to be there—which we love seeing, because when it comes right down to it, Fashion Week is freaking cool.
Down the way, Vampire Diaries star Nina Dobrev finally made a Fashion Week appearance, looking exactly as she does on TV: no slimmer, no taller, no shorter, no more tired. Just super, super pretty, incredibly smiley, and shiny of hair, which she had curled slightly as if seeking middle ground between her two TV alter-egos, Elena (straight) and Katherine (curly, to hide all her secrets). Dobrev, who scored an introduction to Coco Rocha and her husband at the end of the show, sat next to Camila Alves—who was clad in a truly unfortunate bandage shirt and unflattering trousers, as if out to prove that even models can fail at pants just as badly as the rest of us. Which did make us feel better, so thanks for taking that bullet, Camila. Fortunately, we think you'll pull through just fine.