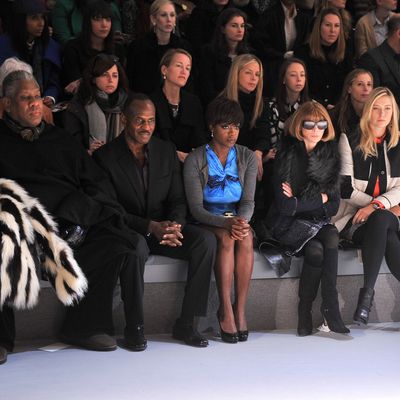 From left: Andre Leon Talley, Julius Tennon, Viola Davis, and Anna Wintour.
Photo: Stephen Lovekin/Getty Images
When we turned the corner and walked into Vera Wang this morning, the first person we saw was André Leon Talley, who looked like a high-fashion Cruella de Vil with a giant black and white fur coat. And right next to him, glowing like a beacon of majesty, sat Oscar nominee Viola Davis — looking flat-out amazing in a blue dress (we have a huge crush), especially considering that she was just in London for the BAFTAs and thus would have had a gold-plated excuse for skipping Fashion Week in favor of a long nap. Viola ended up swapping seats with her husband, Julius Tennon, which put him next to ALT — where they gossiped like old bridge buddies — and her next to a suspiciously cheery Anna Wintour.  Did someone get diamonds in her Valentine's Day breakfast burrito this morning? We can only imagine that Viola was there shopping for Oscar gowns (not that Vera showed any), and we can only hope that her Vogue proximity means there's a cover in her future.
Anna spent an equal amount of time making merry — seriously, we saw all her teeth — with her other seatmate Maria Sharapova, proving that while Anna may stray with an actress or a baller now and then, her heart always belongs to the tennis players. Down the row and across the way sat Leighton Meester, whose rep stood right up against her knees like a bodyguard and refused to let her do more than one interview, despite the fact that you'd think Vera Wang would appreciate having Leighton on the record about what it was like to wear not one but two custom bridal gowns as Blair Waldorf — unless she was concerned that Meester's statement would be along the lines of, "Man, that dress was itchy." The prize for the Most Unreachable Celeb, however, proved to be a toss-up between Jenna Dewan-Tatum, who arrived at the very last minute and had to be wedged into the front row by a PR girl, and a leather-trench-clad Renée Zellweger, whose entrance was amid such a flurry of security that you'd think it was President Obama they were seating rather than Bridget Jones. Although we bet even Barry would've stopped for a sound bite. (For more Fug Girls, go here.)