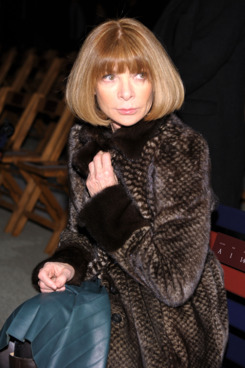 Sometimes the lack of a sound bite at Fashion Week says just as much as five minutes of nattering. Case in point: At Tommy Hilfiger on Sunday night, in the middle of an otherwise gregarious interview with Mia and Chelsea Tyler, we confessed that we find their famous father Steven and J.Lo hilarious together on American Idol and both girls promptly smiled, lips closed, and politely mmm-hmm'd. The filthy rumor-mongers in us want to believe that's because the Aerosmith legend calls them from the set all the time complaining about some J.Lo diva demand or other—gardenias floating in her toilet, nine-hundred thread count hankies, whatever—but in the interest of fairness, the girls also claimed they haven't seen much of Idol because they don't have TV sets. "Someone will tell us something outrageous he did, and I'll YouTube it," Mia admitted. Said Chelsea, "It's funny, it's all the things he's been doing our entire life," to which Mia added with an affectionate eye roll, "And now the world gets to see it. He's a dirty old man. But we love that."
The girls did talk a lot about their dad's nurturing side, on Idol and in life—"If someone needs a hug he'll see that in them, and go out of his way to make them comfortable and happy," Mia said. Chelsea chipped in, "That's even why he took the show in the first place—to help people make it happen for themselves in an industry that he understands better than most." That's sweet, it's true, but we were really more fixated on discussing important things like Tyler's elaborately vibrant blouses and pants—and whether his girls would ever give their dad a more classic Hilfiger makeover.  "That man doesn't need a makeover. He's magical," Mia insisted. "When I was little I wanted him to dress like Robert Palmer, because I was so embarrassed. So he came to a school event in a normal man's suit and jacket and everyone was like, mouth open, because he was so normal. That was a dream come true. But honestly, I would never change him. And we steal his stuff all the time." We can think of a couple paisley options we wish they would steal forever.
Speaking of people we don't want to change—and whose closet we might want to raid, if she weren't nine feet taller than we are—Uma Thurman gave the show a shot of the A-list, sitting down the row a bit from the Tyler girls and looking beautiful and ageless, despite the fact that her pantsuit was depressingly bland. Honey, you're Uma Thurman. Show some leg. Although perhaps not as much actress/DJ/whatever Becka Diamond, who appeared to be wearing  fishnet as pants—except that she had suspenders on, and they had to be attached to something. (We shudder to think.) Diamond slouched into the building with Cory Kennedy, whose hair seems to be in the process of turning into dreadlocks, and who didn't seem very happy with her seating assignment despite the fact that it was, you know, in the front row.
At a respectable distance from the whining and the pantslessness sat actress Abigail Breslin, alongside Teen Vogue's Amy Astley. We're pretty sure we overheard them talking about sexting, and we certainly hope that was because Astley is working on a story about it, and not because Breslin is addicted to it. A few seats down, Grown-Up Vogue's Anna Wintour let a fan plop down next to her for a photo, without once stink-eyeing the girl's black bra/sheer shirt ensemble. Perhaps hanging out with Nicki Minaj has rendered her immune to shenanigans.  Last to arrive were actress Beth Riesgraf—best known for her work on Leverage, and for naming hers and Jason Lee's child Pilot Inspektor—and Krysten Ritter of the forthcoming Don't Trust The B**** In Apartment 23, both of whom had on semi-unfortunate jumpsuits that almost overshadowed their wholly awesome footwear. We wanted to pop over and ask Ritter about working with Dawson Leery himself, James Van Der Beek, but then we remembered that she plays the titular b**** in apartment 23 and therefore we aren't supposed take her at her word. If by next season they've rechristened it Please Ask The B**** In Apartment 23 About The Beek Because She Has Some Great Stories, though, then we're in business. Silence can speak volumes, sure, but sometimes the actual volumes are more fun. (For more Fug Girls, go here.)