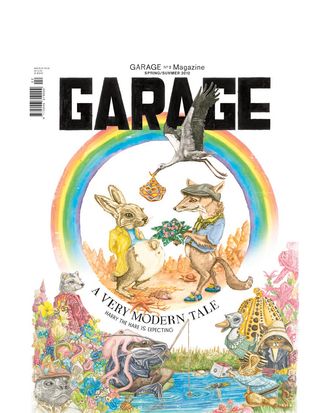 Garage No. 2.
Photo: Garage
The cover of Garage magazine's second issue features a dapper gay couple, Harry the Hare and Frederick the Fox, who are apparently expecting a baby. Titled "A Very Modern Tale: Harry the Hare Is Expecting," a very pregnant Harry wears Jil Sander while a Prada-clad Frederick proffers a bouquet designed by Missoni. Because who needs models when you can have furry woodland creatures with a baby bump? In her editor's letter, Dasha Zhukova explains:
We have a completely new social landscape that expands Norman Rockwell's picturesque mid-century nuclear family into multiple-option domestic scenes: two moms, two dads, biological parent, birth parent, single parent, surrogate parent, egg donor, sperm donor. Men and women still marry, just not always one another. Gay couples have children. Exes and futures live together. It's not new, it's just neater … Today we are living the rainbow: all tribes are merging; everything has evolved.
If only these modern times included a catfish-riding octopus.