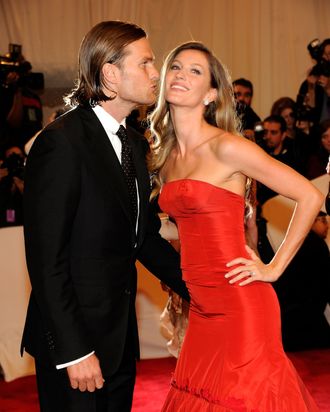 Tom and Gisele.
Photo: Kevin Mazur/2011 Kevin Mazur
The Post somehow got its hands on an e-mail that Gisele sent to friends and family asking them to pray for Tom Brady, which they deemed "disgustingly sappy" and "hardly the stuff of Knute Rockne." Here's what she wrote:
My sweet friends and family. This sunday will be a really important day in my husband's life. He and his team worked so hard to get to this point and now they need us more than ever to send them positive energy so they can fulfill their dream of winning this super bowl…

So I kindly ask all of you to join me on this positive chain and pray for him, so he can feel confident, healthy and strong. Envision him happy and fulfilled experiencing with his team a victory this sunday.

Thank you for your love and support. Love, G :)
When the Post contacted Gisele about it, she responded, "I am surprised that you received this e-mail; it was a private note only sent to close friends and family." Meanwhile, we're still hung up on her :) signature. Doesn't she seem more like the xo type?