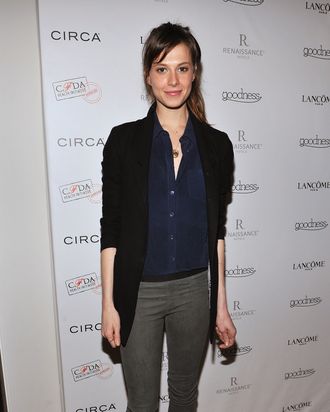 Elettra Wiedemann wants you to eat.
Photo: Fernando Leon/Fernando Leon
Perhaps because people were actually consuming food, the energy at the launch party for Goodness, Elettra Wiedemann's pop-up restaurant in the Robert atop the Museum of Arts and Design, was undeniably bubbly and lighthearted. As Wiedemann said, "It's supposed to be a really fun and electrifying week, but instead everyone's just sad because they're running off of vodka. It doesn't work! You crash after like, two days and you're sad and angry. Just be happy! Eat something!" Wiedemann isn't the only one offering food near the tents, but the light menu at Goodness (tofu, mushroom salad and white-bean soup from chefs like Mario Batali, Alain Allegretti, and Julian Medina) is probably healthier than, say, the catering Mickey Boardman found backstage at Rachel Zoe — "I was so excited to see french fries at this fashion thing. I'm usually the only person anywhere near the catering during photoshoots," he told us. Maybe someone can get the poor model Michelle Harper told us about to Goodness: "I saw a girl throw up in her dress during a presentation because she was drinking a venti black coffee and hadn't eaten, and she just went down," lamented the noted eccentric.