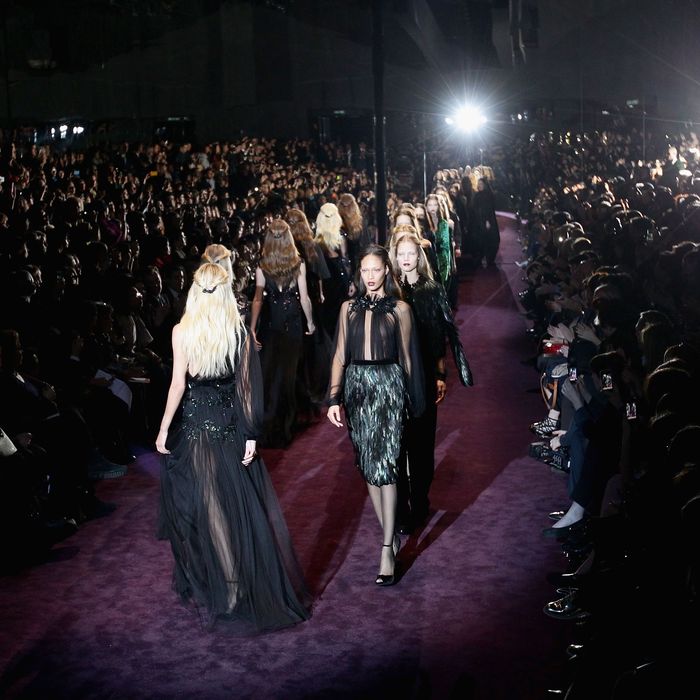 Gucci's fall 2012 show.
Photo: Vittorio Zunino Celotto/Getty Images
At today's Gucci show in Milan, morose-looking models walked down a bruise-colored carpet in heavy, sinister makeup. The lighting was dim, the backdrop was dark, and the clothes were almost all black. Which reminded some critics of another lugubrious topic: the European economy. Writes the Telegraph's Luke Leitch:
This is set to be a gloomy year for Italian fashion — analysts suggest sales will decline by 5.2 per cent in 2012 — and Gucci's opening show today captured that mood perfectly.
Leave it to Gucci to turn all this terribly unglamorous talk of austerity measures (lower minimum wages, eew!) into something expensive like feathered coats. Frida Giannini described the collection as "a dark glamour," citing "romanticism" and "military references from the 19th century" as her main inspirations. Sheer purple pants fit into this vision, too, apparently, as did long capes and lots of velvet.
But despite all this chic cheerlessness, don't lose any sleep over Gucci suffering from the eurozone's money troubles. Milan Fashion Week president Mario Boselli addressed that very issue today: "Our fear is to see again what happened between 2008 and 2009, when fashion sales dropped by 15 per cent," he said. "This time it shouldn't be as bad, because brands have slimmed down their operations and expanded in emerging countries." So in other words, Italians might not be buying these black clothes, but folks in China definitely will be.
See the Complete Gucci Fall 2012 Collection