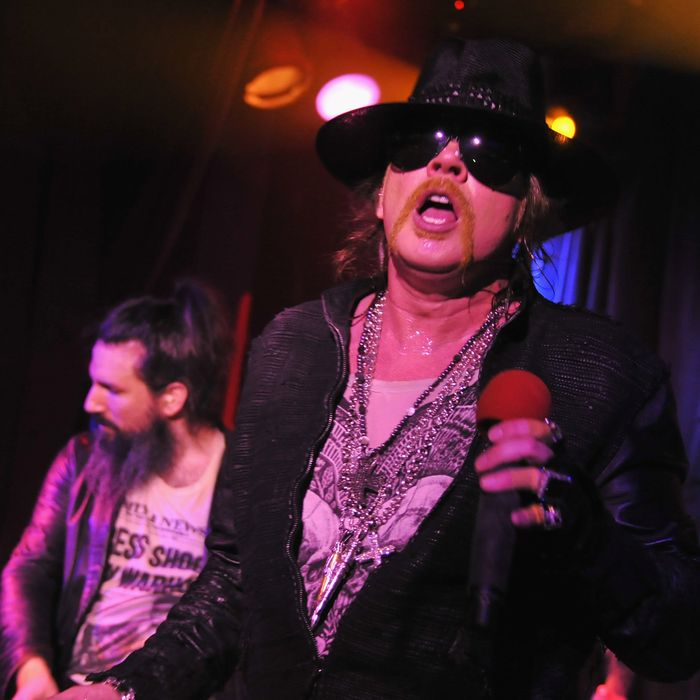 Axl.
Photo: Theo Wargo/Getty Images
"I forgot to Google how to bang a rockstar," a friend, let's call her Peggy, says when she arrives at the Maritime Hotel last night, where we consume pasta before the Guns N' Roses show at Hiro Ballroom, brought to us by DeLeon Tequila and Nur Khan Electric Sessions. Banging Axl Rose, the lead singer and only remaining member of the original band — who still tours as Guns N' Roses with a new band — is a lifelong dream of hers. We are trying to figure out how she can accomplish her mission and call in sick to her corporate job tomorrow, which, you would think, can't be that hard. But alas: "I have no idea how to be a groupie," Peggy says. Nor do the rest of us.
A number of strategies are discussed, like Peggy initiating contact with a roadie: "But I don't want to bang a roadie — that happens a lot. The groupies just end up banging the roadies." Or sending a friend to initiate contact with the roadie to act as a bridge between Peggy and backstage. But the friend: "I don't want to bang the roadie, either." Again: nor did the rest of us.
The stakeout began two hours before the band came on after midnight. Fashion people who didn't get flown to Europe for those shows (London Fashion Week starts today) claimed real estate on the floor. Kate Lanphear, who is so cool it's embarrassing to be around her, wore a leopard coat and got a spot close to the stage, in front of prepubescent-looking models wearing furs and floppy hats but behind an underage-looking girl wearing Lady Gaga makeup with blue hair carefully moussed to stick straight out from the roots thereby (ironically) increasing the diameter of her head by about eight inches, who got mad when people "flicked hair" in her face. Somehow, just somehow, despite all her trying (and there was a lot of trying, this being a Guns N' Roses Fashion Week party), she managed to look like a less authentic fan than, well, the people in their thirties milling about who had been waiting for the chance to try to bang Axl for twenty years. And concerts like this are nothing if not a competition to be the most devoted "you're too young to understand" kind of fan.
Peggy spends much of the two hours figuring out how to get to Axl. A photographer standing next to her convinces her to talk to some bearded men sitting on trunks next to the stage who look like they might be roadies. (Peggy has loudly informed said photographer that she's trying to bang Axl.) So she scurries over, and we see them laughing at her. "They're not roadies. That was so embarrassing," she announces when she gets back. Clearly no one is going to help her get to Axl but herself. She won't flash him, but after the band comes on, she does manage to remove her bra from underneath her clothes to use as Axl bait. Rather than swing it above her head like a lasso, the way a normal slutty bra-throwing concertgoer would, she folds the cups on top of each other and holds it in her hand like a sandwich. Since we are in the front row, she can reach her arm into the stage area. "Here's my bra!" she shouted a couple of times. "You have to throw it! Swing it around!" we tell her. After a few pitiful offerings of her bra to the band, she tosses it at the center of the stage. A roadie, who has just kicked an audience member out for throwing a glass onto the stage (Axl called that person a "cunt," which made for a fun non-altercation altercation) grabs the bra and throws it back into the crowd.
When Axl shouts, "It's your host, Sir Fucks a Lot!" the security guard standing to our left, who has been filled in on Peggy's dream of banging Axl, turns to her and says, "Now's your chance!" Of course, his job is to keep Peggy from rushing the stage so what could she do, really? Eventually Axl touched hands in the crowd, including hers. And the guitar player — the new not-Slash Slash who looked like Criss Angel but with sleeve tattoos and lip piercings — played his guitar in our faces weirdly sexually all night, so that was something. At one point he licked guitar picks and stuck them to our foreheads, which was awesome at the time (thank you, free tequila) but kind of makes me want a chemical peel today.
The security guard tells us Matt Damon and Justin Timberlake are on the balcony, as though he expects us to go try to bang them or, well, care enough to leave our spots on the floor (no, thanks). And Peggy, when she doesn't have Criss Angel's guitar or crotch in her face, has the non-roadies from earlier staring at her, which is embarrassing. Our security guard friend even points out, when guitar-crotch gets really close to her face, "I guess you'll have to settle for him."
At the end of the show, Peggy had not banged Axl. But "I don't think I could have done it," she decides. "I could have had a conversation with him. In a room. But that's probably it." She paused for a moment before we left: "Let me just see if I can find my bra." And, in a heart-warming end-of-Fashion-Week moment, in a pile of wet spots and broken glass bottles, she did.