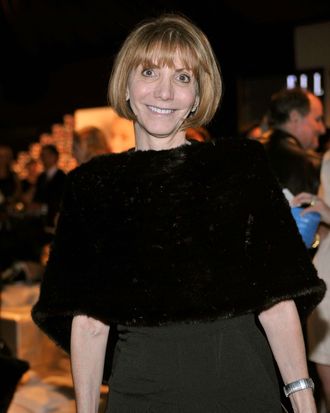 Carol Smith
Photo: Stefanie Keenan/WireImage
Last summer, longtime Elle publisher Carol Smith — who was at the helm when Elle started working with Project Runway, and when, in 2009, it sold more ad pages than Vogue — joined Harper's Bazaar. Since then, the titles' parent companies, Hearst and Hachette Filipacchi, officially merged (keeping Smith oddly close to home, as Elle has now moved into the building) and Bazaar underwent a major redesign, the debut of which dropped this month. We recently met Smith — decked out in an skull-and-crossbones-festooned Alexander McQueen dress, trademark Anna Wintour-ish bob and droll sense of humor intact — at her office to talk about the magazine's new look, the future of fashion television, and her brief stint at Condé Nast's Bon Appétit.
Why the redesign now?
When I got here in June, Bazaar was definitely at a crossroads, especially with Elle coming in the building. It was so hugely important to say, "What  is Elle, what is Bazaar, what is Marie Claire?" 
So tell me.
When I was at Elle, we'd go through those exercises: Describe Harper's Bazaar in one word. It was always sophisticated. Vogue was the Bible . W was always the socialite-meets-art-world — it's a little bit confusing now. Bazaar is smaller. We're 700,000 to Elle's 1.1 million [circulation]; we're 3 million readers to their 6 million readers. We're older. Now we're ten times a year, not eleven. At Elle, I used to say women come for our fashion and they stay for our features. The features at Elle are always so smart. At Bazaar, you come for fashion but you stay for this fashionable life.
This is why the magazine has gotten bigger and thicker?
The sad fact, as we all know, is that there is no middle class. The world is bipolar, America is bipolar, luxury is more luxurious than ever, and quality is back at the highest level — Bazaar could be that magazine [that speaks to that]. So my feeling is that we are the 3 million women who sit atop the fashion pyramid. I was all about a more luxurious product. I fought hard. If you're going to read a magazine, it's tactile. I fought for the paper, I fought for the cover stock.
After Elle beat Vogue in ad pages, you were hired to work for Condé Nast for a while. Is it better to work for Hearst?
It's the nice company, Hearst. Condé Nast is the mean company … [but] having spent five months at Condé Nast I'm certainly not the expert. They produce great products. They spend a lot of money on them. On the publishing side, I wasn't overwhelmed, but they weren't overwhelmed with me either, so …
How important was Project Runway to your success at Elle?
It was accidentally important. Here's what I knew: Elle had to get back into the conversation somehow.
Do you see Bazaar on TV?
I don't see Bazaar as a TV show. Right now, the biggest challenge about doing TV is — and maybe I'm wrong — but we don't want another show just like like Project Runway. 
Why'd Elle let Marie Claire have it?
We gave it up. When it went to Lifetime,  Harvey Weinstein [its producer] came back and said, now it's a million dollars you're going to have to pay for it. And we said, you know we did this for five years … and Lifetime didn't seem right for Elle. And then Elle did The City and Joe Zee had his show, so there's lots of TV. 
But you do see Bazaar doing some thing e-commerce related?
At Bazaar, you'll be able to see it and buy it — platform agnostic and [in] one check-out. Glenda was very much in favor of it. I think that even now a lot of Condé Nast editors are less in favor of it.
Well, the magazine is, after all, called Bazaar.
Are you going to "the Vogue" and shop? I have the name. Bazaar. That's the name of the new front section. You'll see the design there is very much e-commerce enabled. It was designed for a computer. It's touchable. If you look at Elle, it has so much stuff on the page, its very trend-forward, this is bigger and touchable. You can feel it the silk, the leather. So for me, Bazaar is Elle all grown up. 
And married well.
[Laughs] And married well, definitely.