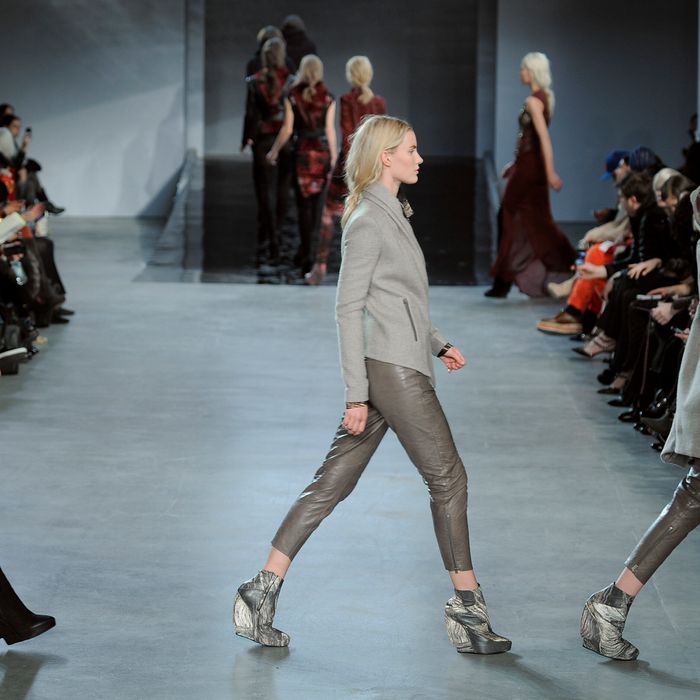 Models at Helmut Lang's fall 2012 show.
Photo: Karl Prouse/Catwalking
When the lights went up at last night's Helmut Lang show, presented in a cavernous studio along the West Side Highway, we immediately wondered how exactly the models would navigate the runway. First, they had to descend from backstage on a long, shiny ramp, which looked more a slide (how AWESOME would a real slide be, though!). Then, they had to follow a clover pattern with a three-way intersection in the middle, which goodness knows are hard enough to manage even with the guidance of traffic lights. Sure, models have had trickier runways — at least there were no stairs, or swimming requirements — but it was a nail-biter all the same. One model took a wrong turn at the intersection and, halfway through her pivot, realized her mistake and paused for a moment. But then she decided to wing it and managed not to collide (despite a few near misses) with any of her counterparts. By some miracle, or just some very well-placed anti-skid tape, none of the models fell on the ramp either.
When we weren't holding our breath for the models, we were enjoying the clothes, which included lots of tissue-thin perforated leather and chunky sweaters. Many of the dresses, sculpted into the label's signature asymmetrical shapes, had intricate leather detailing stitched onto the bodice or the shoulders. The collection also featured a rusty red splatter print (the actual color names, in the show notes, were "red midnight" and "dried blood"), slouchy tapered pants, and thigh-high boots. And for all of those who depend on designers Michael and Nicole Colovos for great leather pants, know that the label hasn't lost its touch.
Also of note: Andrew Rosen, owner of Helmut Lang and Theory and major investor in Proenza Schouler, sat sandwiched between Bryanboy and Rumi Neely throughout the show and chatted merrily with them before and after, raising the question that a collaboration of sorts might be in the works.