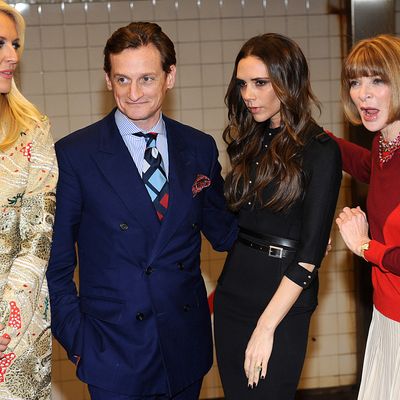 Keren Craig, Hamish Bowles, Victoria Beckham, and Anna Wintour.
Photo: Brad Barket/Getty Images
Anna Wintour obviously would never descend into the netherworld of stinky puddles and pizza-munching rats — much less allow herself to be photographed doing so, horrors — unless she had a worthy cause to promote and lots of pretty people to keep her company. But luckily for all of us who love a good celebrity subway story, today she had both! To kick off a new tourism campaign for the U.K. titled "GREAT," she braved the grime with some other British fashion people — Victoria Beckham, Hamish Bowles, Marchesa's Keren Craig and Georgina Chapman, and Tamara Mellon, among others —  and posed for pictures in Grand Central. (Of course, any dubious characters playing the bongos or telling Michael Jackson jokes were cleared off the platform beforehand.)
If you're wondering why Anna looks so distraught in this picture, it's because a train wrapped in the British flag was supposed to pull up to the platform for the photo op. But, as anyone who takes the subway would predict, the train was late, reportedly much to Anna's chagrin — although if there's one person who'd be immune to Anna's powers of intimidation, it'd be a New York City subway operator. Anyway, the train finally got there, photos were taken (of course no one actually rode the train, silly), and then everyone dispersed and got themselves pore-cleansing facials post-haste.