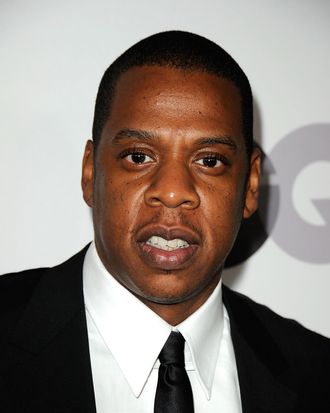 Jay-Z, still in it.
Photo: Frazer Harrison/Getty Images
Rocawear has had a rough few months, what with their sputtering attempts to piggyback onto the Occupy movement followed by major layoffs at their New York office. But if you're worried the brand is struggling — or, worse yet, that Jay-Z might be drifting away from it — well, don't be. The company's executives did some damage control with a lengthy interview in today's WWD, in which they asserted that Jay-Z is still fully invested (he's just renewed his contract to endorse the label for another three years, and still owns 51 percent stake in Roc Apparel, the men's licensee). And to clear up any lingering doubts, Jay-Z will appear in a commercial for Rocawear, out later this month.
Sure, the label has been struggling a bit lately, admits Ronnie DeMichael, the COO-CFO of Roc Apparel. But despite sales being "slightly" down in 2011, they're now focused on expanding into European and Asian markets. And how about those layoffs in January? DeMichael has this helpful explanation:
Key organizational changes have eliminated unnecessary and underutilized roles as a part of an increased organizational efficiency exercise.
In related news, Jay-Z's forthcoming commercial will be called "From Marcy to Madison Square," and show black-and-white footage that follows Jay-Z's rise from selling CDs out of the trunk of a car in Marcy Projects in Bedford-Stuyvesant to headlining concerts at Madison Square Garden. It'll reportedly air on MTV, BET, and TNT during NBA basketball games.