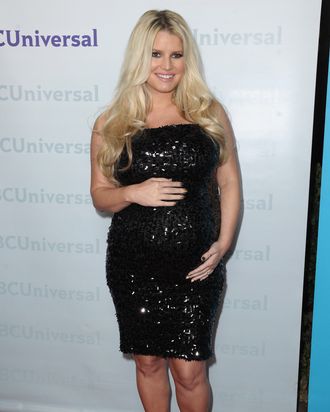 Jessica Simpson, currently quite pregnant.
Photo: Alberto E. Rodriguez/Getty Images
Jessica Simpson's clothing has been called many things, but "slimming" usually isn't one of them. Irony aside, she's teamed up with NBC's reality weight-loss show Biggest Loser to give their contestants free clothes (the winner of one of the show's challenges gets to invite another contestant to join them on a shopping spree in Simpson's showroom). "It was so much fun seeing the [contestants] try on clothes they would have never fit into before and feeling sexy," Simpson said of the episode, which will air on March 13. By no coincidence whatsoever, Simpson's new fashion reality show, Fashion Star, will premiere that same night. So if Simpson's recent absence from reality TV has left a void in your life, or at least your DVR, well … consider that problem solved.
Related:
Jessica Simpson Will Mentor Up-and-Coming Designers on Fashion Star
Jessica Simpson Is Indeed Pregnant
Look for Jessica Simpson at Your Next Weight Watchers Meeting