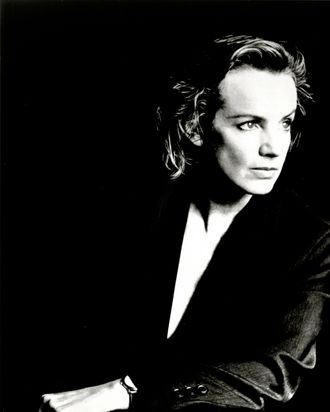 Jil Sander.
Photo: Courtesy of Jil Sander
Designer Jil Sander the will replace Raf Simons at her eponymous brand, according to the IHT's Suzy Menkes. This announcement follows this morning's news that Simons will leave his position at Jil Sander on Monday following his final womenswear show for the label on Saturday. Menkes reports:
A person in Germany who declined to be identified because of the sensitivity of the subject said that Ms. Sander, 68, was happy to return to the company that bears her name and would take up her role immediately.
Jil Sander Group has not yet confirmed the appointment, but said in a statement this morning that Simons's successor would be announced within the next few days. Sander, who is 68 years old, founded the brand in 1968 and, after Prada Group acquired a 75 percent stake in the brand in 1999, resigned in 2000 after quarreling with Prada CEO Patrizio Bertelli. She returned in 2003 and then quit again two years later, at which point Simons was appointed. Sander spent the past seven years relatively removed from the fashion scene, aside from her wildly popular collaborations with Uniqlo. In 2006, Prada sold its stake in Jil Sander to British private equity firm Change Capital Partners, who later sold the brand to Japan-based apparel group Onward Holdings Co. Ltd.,*  so there's no chance of lingering bad blood between Sander and Bertelli causing trouble now.
Of course, the elephant in the room now is if — or really, when— Simons will go to Dior. (We just tried to place bets in the office, which failed miserably because we were all betting on the same thing.)
* This post has been changed to clarify Jil Sander's current ownership.