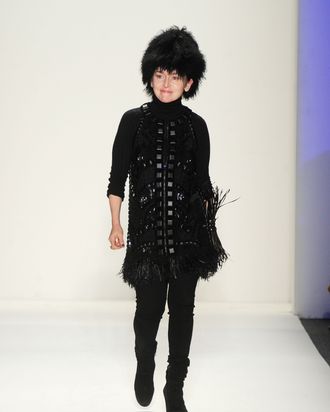 Joanna Mastroianni at her fall 2012 show.
Photo: Frazer Harrison/Getty Images
It was an eventful Fashion Week for designer Joanna Mastroianni, with style icon Zelda Kaplan passing away in the front row at her runway show and the death of her friend Lillian Bassman the same week. We caught up with the Mastroianni at the opening of Roxanne Lowit's photo installation at Parlor New York on Wednesday.

NYM: Do you mind if I ask you about Zelda Kaplan? How did you react to that, personally?
A: Oh, I was beyond shocked. First of all, I had no idea what was going on backstage; I didn't even find out about it until we were — not only was the show over, but we were out of Lincoln Center. I had no idea. And I was speaking with the director, Maysles, who did Grey Gardens, and I'm telling him how cool she is, and if he had a chance to speak with her he would enjoy speaking to her. So I promised him I would introduce him, officially, to Zelda, not knowing any of this. It was quite a shock. But I have to tell you, if a fashion girl ever decides to go, this is the way to go.

For sure.
Gideon [Mastroianni's husband] was sitting literally right next to her, and everybody thought she was just  feeling a little warm and fainting a bit. She was amazing! What she said to me is, "I would never miss a show of yours for the world." She wasn't kidding.

Wow.
She was absolutely incredible. And she was very supportive of women. And you know, she would always say one of the things she attributed this amazing long life of hers to was she never saw doctors. So ironically or not, there were two doctors in the audience, at my show, who ran over to save her. 

So you had a relationship with Lillian Bassman as well?
Oh, big time. Gideon and I had her 90th birthday party in my studio, and last year. There's always somebody that inspires a collection for me, and last fall's collection was inspired by Lillian Bassman. And on the day of my show Mayor Bloomberg declared February 17th Lillian Bassman day. That was the day of my show. It's awesome.
Related:
Socialite Zelda Kaplan Dies After Collapsing at Fashion Show
Slideshow: Remembering Zelda Kaplan, Beloved Party Animal   
From the Vault: Life Lessons From Zelda Kaplan