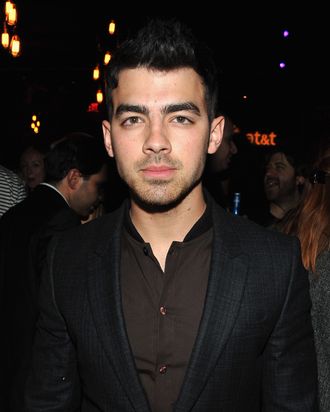 Musician Joe Jonas attends the Samsung and AT&T, hosted by rag & bone, present the "Fashion: Take Note Studio" Valentine's Day Event featuring Band Of Horses at Dream Downtown on February 14, 2012 in New York City.
Photo: Theo Wargo/Getty Images
Last night, the musician stopped by a party debuting The Woman Dress, Miu Miu's third short film in a series created by and about fashion-loving women. But Jonas – in town for the Simon Spurr show – said fashion isn't just for females.
"I've got way too many clothes," he said. "Every time I show my closet, I feel embarrassed because there are so many clothes in there that I feel like, it's hilarious. I have more clothes than a lot of my friends who are girls. But I just love clothes and I love fashion."
Anything he's particularly addicted to? "Shoes probably. I love shoes so I've got quite a lot of pairs. I have a thousand pairs of sneakers. I think YSL has been making amazing sneakers, so I have a lot of YSL sneakers. They're really comfortable."