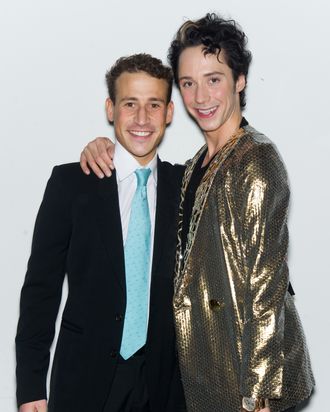 Victor Voronov and figure skater Johnny Weir atend the Alice + Olivia Fall 2012 presentation during Mercedes-Benz Fashion Week at Center 548 on February 13, 2012 in New York City.
Photo: Gilbert Carrasquillo/FillmMagic
Just six weeks after his wedding to Victor Voronov, the ice skater says their relationship hasn't changed much. "The sex hasn't left the marriage yet, I still do everything that I did before, as does he. I vacuum, I clean, I cook, I take care of everything," Weir told us at the Alice + Olivia presentation on Monday. But Voronov, an attorney, does his part around the house as well. "I help out," he said. "I take the trash out, and I … That's about it.
"Well, he had a Russian Jewish mother who did everything for him, so he never learned," Weir explained. Besides, Weir enjoys doing household chores so much he won't hire a housekeeper. "I'm like Mommie Dearest. I'd be the one that beats the shit out of the maid because they missed a spot," he said.
Weir cleans on Sundays — obsessively. "I come down from my office, and my entire bathroom is out there and he's polishing every little thing in my bathroom," said Voronov. "I had to get him a feather duster because he has to Windex every little thing, and it's a waste; I said, you've got to get efficient about this."
"Everything sparkles, as you can imagine. Everything sparkles, Fabergé eggs and gold gilt mirrors," Weir said, proudly. "It's a little over the top."
When it comes to dinner, Weir likes to make meat dishes and salads for his hubby. "And there's glitter on the food, too," Voronov added.
Related: See the Complete Alice + Olivia Fall 2012 Collection