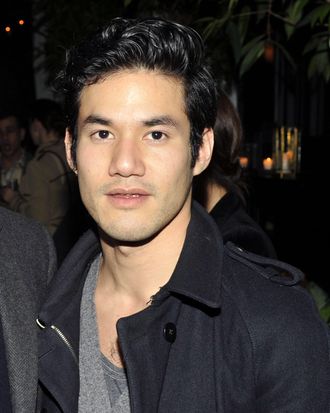 Joseph Altuzarra==LWREN SCOTT After Party==Gramercy Park Hotel, NYC==February 16, 2012==© Patrick McMullan==Photo - LEANDRO JUSTEN/PatrickMcMullan.com====
Photo: Leandro Justen/PatrickMcMullan.com
The dance floor at Red Egg after Altuzarra's Fall 2012 show got wild earlier this week. When we saw him last night at L'Wren Scott's after-party at the Gramercy Terrace, where Questlove was warming up at the turntables and Mick Jagger was finishing dinner downstairs, we wondered whether he had a signature dance move up his sleeve.
"Oh my god," Altuzarra said. "So many. All of my dance moves happen when I'm pretty drunk. I'm not a sober dancer at all. I think my signature dance move is that I'll grind up and down, like high and low, but it goes way too low and then sometimes I can't get back up."
Nearby, Altuzarra's boyfriend, Seth Weissman, disagreed.
"A pirouette," he said. "He used to be a ballet dancer." Altuzarra's brother Charles confirmed. Joseph didn't bust out the top-down grind or the pirouette last night, leaving early to prepare for a short trip to Europe. A little disappointing, but it gives us something to look forward to next season.
Related: See the Full Altuzarra Fall 2012 Collection