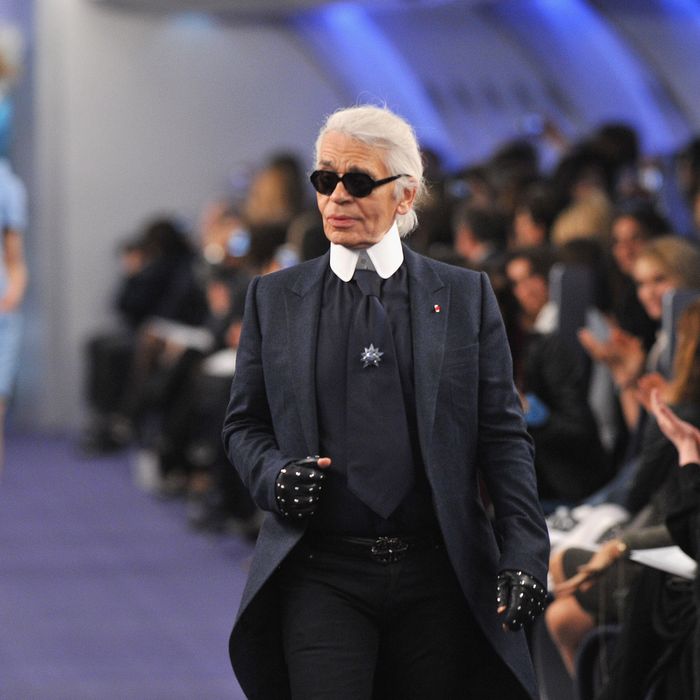 Karl Lagerfeld.
Photo: Pascal Le Segretain/Getty Images
Most of Karl Lagerfeld's interviews involve him making blithe — and borderline offensive —  statements about everything from Michelle Obama to the middle class to saving the economy. But for his guest-edited issue of Metro World News, out today, he actually answered some question about himself. Personal questions, like about sex and pets and death, even! Here's an excerpt from Kenya Hunt's interview.
Do you have much of a sex drive?
Huh? I want you to repeat that.

Do you have much of a sex drive?
No, I'm not very much interested in that. But it's not a question of time, people can make quickies you know. [laughs] If you ask this kind of question, you get this kind of answer. [laughs]
Quickies can be fun.
Good, good, good! I find you talk like Europeans. [laughs.] I think sex is an overrated subject.

But it's the French way, though.
You know, I'm not French. I'm a bloody German.

When was the last time you were in love?
I don't know. I like freedom … Relationships happen for everybody, it can never be a problem. But it's not really my main thing.
Of course, they talked about other subjects, too, like whether Karl watches TV:
I like to be on TV but I don't watch TV. I have no time for that.
Who has influenced him during his life?
Influence has another name, and that's called copying. You see? It's in the air, I don't know. I'm like a TV antenna.
On why he doesn't keep pets:
They die so I don't like them. The drama is I had two I really liked and after they died I don't want another one. That's too depressing.
And speaking of death:
I think it's like a sleep where you don't wake up. You don't remember before, you don't remember after. The only thing is I don't want to be seen dead, huh? So anyway, over, over. The batter is finished, huh, puft.
Well, at least we know that he's always open to changing his mind (on pets, at least).
Related: Karl Lagerfeld Calls Adele Fat, Loves the Obamas, and Says Something Weird About Pregnant Women
Related: Karl Lagerfeld Talks to Hamish Bowles About the 'Middle Class'