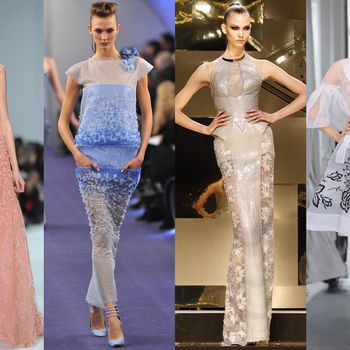 Karlie Kloss, everywhere at the spring 2012 couture shows in January.
Photo: Pascal Le Segretain/Getty Images (3), Alexander Klein/AFP/Getty Images ( 2nd from right)
Karlie Kloss has been conspicuously absent from runways this whole month, supposedly because she has a REALLY exciting "opportunity" lined up. By process of elimination, we can now deduce that she'll make her grand appearance in Paris. Just a few days ago, she was still in New York, getting her nails done with Derek Blasberg (he tweeted on Friday, "Feeling smug … While my fashion friends are working it in Milan, I'm getting a pedi with @KarlieKloss."). But now Karlie and her toes are in Paris, shouting out to her "#pfw ladies" and tweeting photos from around town. So what'll her big moment be? Perhaps she's involved in some dramatic unveiling at Dior or Yves Saint Laurent? Or maybe she'll arrive on the Chanel runway via parachute, or elephant, or ultra-luxurious bulldozer. Let the speculating begin!
Related:
Confirmed: Karlie Kloss to Skip New York Fashion Week [Updated]