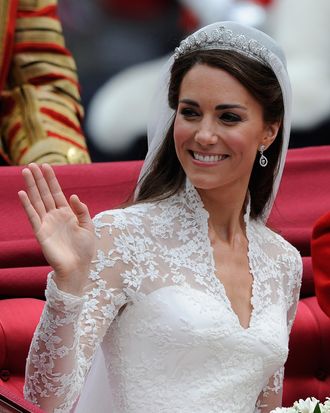 Catherine, Duchess of Cambridge waves as she travels beside husband Prince William, Duke of Cambridge in the 1902 State Landau carriage on the procession route along The Mall to Buckingham Palace after their wedding ceremony at Westminster Abbey on April 29, 2011 in London, England. The marriage of the second in line to the British throne was led by the Archbishop of Canterbury and was attended by 1900 guests, including foreign Royal family members and heads of state. Thousands of well-wishers from around the world have also flocked to London to witness the spectacle and pageantry of the Royal Wedding.
Photo: WPA Pool/Getty Images
Kate Middleton visited the Royal School of Needlework at Hampton Court Palace yesterday to thank the master embroiderers who helped make her wedding dress.  The embroiderers hadn't known who the dress was for until just before the wedding, and still took extra pains to keep it in pristine condition. Kate reportedly sympathized with the pressure they must have been under, because she's just that nice.